After Eight, White Chocolate Mousse and Raspberries Semifreddo with Raspberry Coulis
Author Notes:
How 80's can you get with After Eights! I still like them, frozen! One of my friend's mother used to make this really simple dessert – cooked pears with an After Eight through the stem and just melted in the microwave.
Although I have a sweet tooth, my chocolate consumption isn't enormous. And, I prefer my chocolate very cold.
For this recipe I paired raspberries with a white chocolate mousse to which I added little bits of After Eight's and fresh mint and moulded it for a Semifreddo. Still very 80's!
—Maria Teresa Jorge
Serves: 8 – 10
Ingredients

8

White Chocolate for desserts


3

gelatine leaves


3

egg whites, large


2

cups whipping cream


1/2

teaspoon vanilla extract


1

pinch salt


8

After Eights – frozen


1

cup fresh raspberries – mashed up


1

cup raspberries


1

handful Mint leaves – fresh
Directions
Put the After Eight chocolates in the freezer for 1 hour.
Chop the white chocolate in pieces and put in glass bowl with 6 tablespoons of cream. Melt in microwave, medium temperature. Mix with spatula to melt well with no lumps. Set aside to cool slightly.
In a stand mixer whisk the cold cream until soft peaks form. Add the vanilla and continue beating until hard peaks form.
Whisk 3 egg whites with a pinch of salt to hard peaks.
Cut the After Eight's in very small pieces. Chop a few very fresh mint leaves.
Fold the egg whites and the chopped up After Eight and chopped mint leaves into the white chocolate mixture and set aside.
Line a loaf pan with cling film, leaving a good 5 inches more all around.
Start with a layer of white chocolate and After Eight mousse. Gently tap the mould on the counter top to get rid of any air bubles and smoothen with a spatula. Add a layer of Raspberries and put one more layer of white chocolate mousse, repeating the previous process. Make one more layer of raspberries and one more layer with white mousse.
Tap one last time the mould to get any air bubbles out. Cover with the hanging cling film, pressing to flatten and smothen the top of the

Semifreddo.The

semifreddo should come up to the rim. Put a flat surface on top and a weight, to compress the semifreddo.
Put in Freezer minimum 12 hours.
To serve:Unmould the Semifreddo by pullin the cling film up and the tin in opposite directions. Once out of the mould, remove the cling fiml, cut in slices and serve.
Serve with raspberry coulis and mint leaves to decorate.
Raspberry Coulis: see my recipe Pistachio and Rose Water Financiers with Raspberries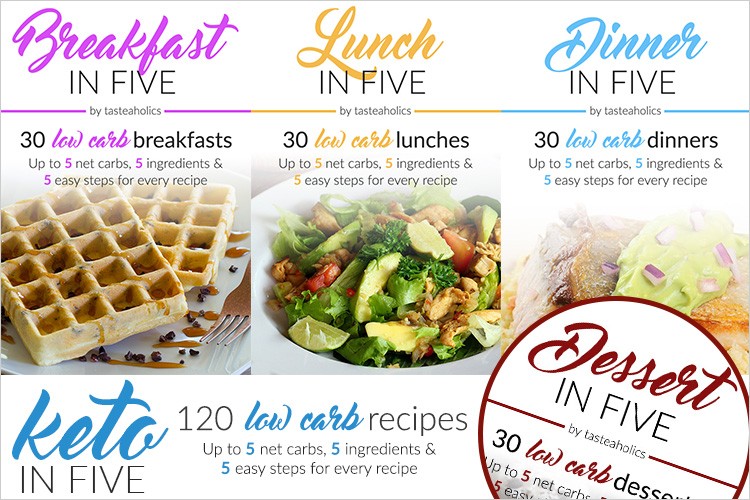 As you already know, the key to success is simplicity and satisfaction with your diet. I've been on Keto for a long time now, and these are the best e-cookbooks I could ever put my hands on: Breakfast in Five, Lunch in Five, Dinner in Five & Dessert in Five.
Each ebook contains 30 recipes. Every recipe is made with just 5 ingredients and has up to 5 grams of net carbs. That means you can have seconds of any meal and you'll still be within your daily carb limit!
If you're ready to invest a small amount of money to get your precious time and pleasure back, be sure to check it out.