Serves 2-4, depending on what else is served.
Ingredients:
3 celery stalks, very thinly sliced
1 cup chickpeas (equivalent 14-ounce can), drained/rinsed
3 handfuls arugula or shredded romaine lettuce
1/3 cup toasted pepitas or almonds
15 black olives, chopped
1/2 small red onion, finely diced
1 small head of broccoli florets, blanched
1 medium clove garlic, smashed
1 tablespoon white miso
1 tablespoon mirin
1 tablespoon brown rice vinegar
big pinch of ground cumin
1/3 cup/80 ml plain yogurt
1-2 tablespoons heavy cream, or to taste
1 small ripe avocado, sliced
Instructions:
In a large bowl combine the celery, chickpeas, arugula, pepitas, olives, onion, and broccoli. Set aside. Make the dressing by smashing the garlic into a paste in a mortar and pestle (or alternately, with a knife). Stir in the miso, then add the mirin, and vinegar, and combine until it all comes together. Add the cumin and the yogurt, and stir again before finishing with the heavy cream. Taste, and adjust the dressing if needed.
Before serving, add half of the dressing to the other ingredients and toss well. Keep adding more dressing until it is to your liking, adding the avocado toward the end so it maintains its structure.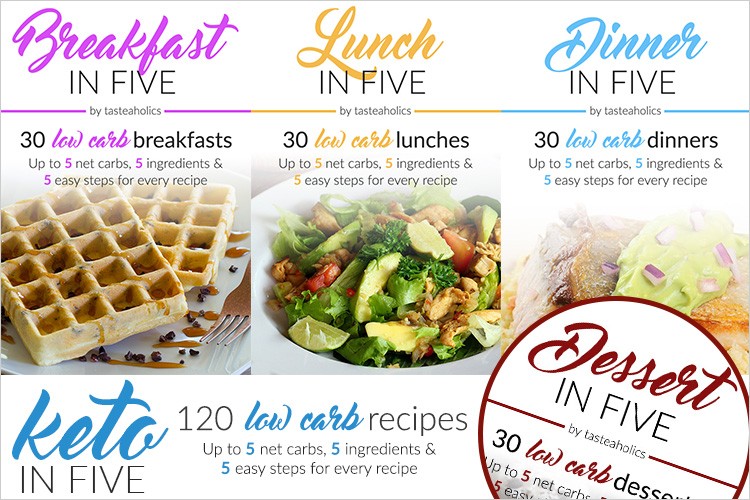 As you already know, the key to success is simplicity and satisfaction with your diet. I've been on Keto for a long time now, and these are the best e-cookbooks I could ever put my hands on: Breakfast in Five, Lunch in Five, Dinner in Five & Dessert in Five.
Each ebook contains 30 recipes. Every recipe is made with just 5 ingredients and has up to 5 grams of net carbs. That means you can have seconds of any meal and you'll still be within your daily carb limit!
If you're ready to invest a small amount of money to get your precious time and pleasure back, be sure to check it out.