Apple Salad For Sunday Dinners
Author Notes:
I could look you right in the face and not remember your name but I can tell you about a dinner I ate or made years ago. I come by the name forgetting honestly from my dad. He can remember numbers and spreadsheets from years past like I remember food. Sometimes though a few gems slip through the cracks. Fortunately things come along that will remind you of a recipe from your past. I remember the first time I saw a chef make a vinaigrette at culinary school and how they emulsified it with a little water in a blender. I made dressings like this for a long time. Eventually I moved on to other styles of dressings and somehow never came back to this way of making them. This year at Christmas I received the Frankie's Spuntino Kitchen cook book from my wife. Great wife, I know, and I am easily the luckiest man in the world. It also shows me how in many ways food52 is a great resource and not just an amazing learning tool. This book would have never passed through my radar without food52 and the piglet contest. In the book they make their dressings the same way and it jarred my memory to days gone by. I created this salad and ate it this morning for breakfast. You laugh but you need to get the light while the light is good when you want to photograph something. I am making it again for Sunday dinner. The Sunday dinner tradition is something we have always done and this fits right in with the whole food theme, roast chicken, lots of veggie sides, and great home made bread that we tend to stick with on Sundays. This will go into the rotation and I doubt this method will slip away again. – thirschfeld
—thirschfeld
Food52 Review: Thirschfeld takes care to compose a salad that is both beautiful and flavorful. The sweet and nutty vinaigrette takes seconds to blend together in a blender. The simple salad is packed with crunchy apples, carrots, cabbage and celery. Shallot and scallion garnishes give it a little sharpness. Try it at your next Sunday supper. —Stephanie Bourgeois
Serves: 4
IngredientsFor the apple cider vinaigrette:

1

tablespoon honey


2

tablespoons unfiltered cider vinegar


1

tablespoon water


1/4

cup toasted walnuts


1/4

cup grape seed or canola oil


1/16 to 1/8

teaspoons cayenne pepper, I used an eighth but realize the heat will build as the dressing sits


For the salad:

2

celery hearts, very interior leafy parts only


2 1/2

cups nappa cabbage shreds


4

carrots, medium size, peeled and cut into thick ribbons with the peeled


2

fuji apples, washed and cut into thin half moon slices


1

shallot, peeled and slices into paper thin rings


1/2

cup toasted walnuts


1/4

cup green onions, sliced diagonally for garnish


Sea salt and fresh ground pepper to taste
Directions
Place all the dressing ingredients into a blender. Season with a pinch of salt and a few grinds of pepper. Blend until emulsified.
Place the celery, cabbage, apples and carrots into a bowl. Season with salt and pepper and toss to taste with dressing. Garnish with walnuts, shallots green onions and serve.
This recipe is a Community Pick!
This recipe was entered in the contest for Your Best Salad with Apples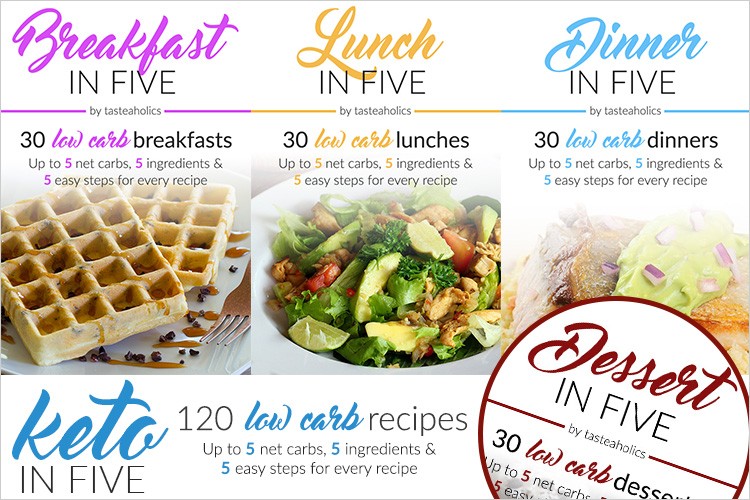 As you already know, the key to success is simplicity and satisfaction with your diet. I've been on Keto for a long time now, and these are the best e-cookbooks I could ever put my hands on: Breakfast in Five, Lunch in Five, Dinner in Five & Dessert in Five.
Each ebook contains 30 recipes. Every recipe is made with just 5 ingredients and has up to 5 grams of net carbs. That means you can have seconds of any meal and you'll still be within your daily carb limit!
If you're ready to invest a small amount of money to get your precious time and pleasure back, be sure to check it out.