Asparagus with Eggs Mimosa
Hard-cooked eggs and fresh spring asparagus make a colorful, flavorful dish for brunch, lunch, or dinner.
Ingredients
3

large eggs

2 lb.

asparagus

1

lemon

3 tbsp.

extra-virgin olive oil

2 tbsp.

red wine vinegar

1 tbsp.

snipped chives

1/4 tsp.

sugar
Directions
In 2-quart saucepan, combine eggs and enough cold water to cover. Heat to boiling on high. Remove from heat. Cover, and let stand 14 minutes. Rinse eggs with cold water until cool, then peel. Eggs may be hard-cooked and refrigerated up to 3 days ahead.
Meanwhile, cook asparagus: Arrange in even layer in microwave-safe 8- by 8-inch baking dish. Add 1/4 cup water. Cover with vented plastic wrap and microwave on high 5 minutes. Asparagus may be cooked, cooled, and refrigerated in airtight container up to 2 days.
From lemon, grate 1/4 teaspoon peel; set aside. Squeeze 1 tablespoon juice into small bowl. To bowl with lemon juice, add oil, vinegar, chives, sugar, and 1/2 teaspoon each salt and pepper; whisk to combine.
To serve, arrange asparagus on serving platter. Drizzle with vinaigrette. Coarsely grate eggs over asparagus and garnish with reserved lemon peel.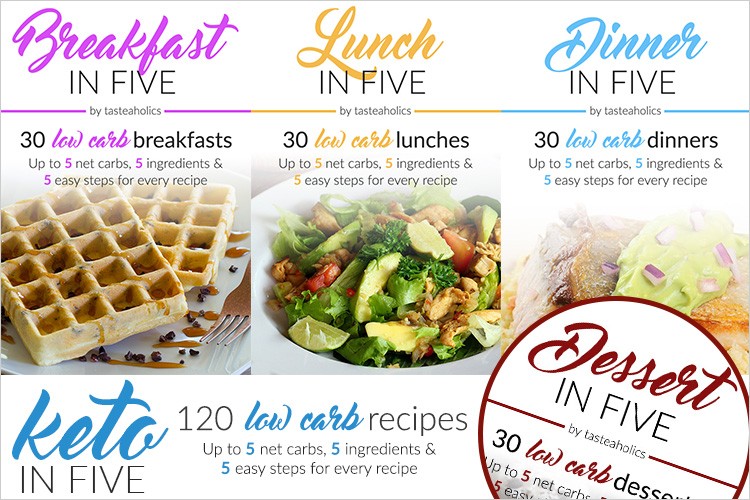 As you already know, the key to success is simplicity and satisfaction with your diet. I've been on Keto for a long time now, and these are the best e-cookbooks I could ever put my hands on: Breakfast in Five, Lunch in Five, Dinner in Five & Dessert in Five.
Each ebook contains 30 recipes. Every recipe is made with just 5 ingredients and has up to 5 grams of net carbs. That means you can have seconds of any meal and you'll still be within your daily carb limit!
If you're ready to invest a small amount of money to get your precious time and pleasure back, be sure to check it out.