This Whole30-friendly, make-ahead Bacon Deviled Egg Salad is perfect for picnics and packed lunches. Topped with bacon, this dish is sure to be a crowd-pleaser!
Longtime readers know that I'm not patient enough to roll up my sleeves and make real deviled eggs—you know the kind, with elaborately piped yolks and prettily garnished tops. That's why I slouched my way into coming up with a Lazy Devils recipe. Still, I love the flavor-profile of traditional deviled eggs—slightly piquant and creamy—and when they're topped with crispy bacon bites, I devour 'em like porky candy.
So I decided to put on my big-girl pants and actually make some deviled eggs for once. I put on my apron, dug my pastry bag and decorative tips out of my messy kitchen junk drawer, and cracked my knuckles. TIME TO DO SOME WORK, MICHELLE!
But then, about halfway through—right around the time I was popping the yolks out of my hard-cooked eggs to make a big bowl of filling—I realized something: WHO CARES? Seriously: Every time I see a plate of beautifully prepared deviled eggs, I spend about zero total seconds admiring the way they look before popping them into my open mouth. So unless the Queen of England is coming over for tea, all I care about is the way these babies taste.
So what's a short-cutter like me supposed to do? Answer: Put away all the extra equipment and make a big bowl of Bacon Deviled Egg Salad instead!
This Whole30-friendly, make-ahead egg salad is going to become one of my summer BBQ staple side dishes. Like traditional deviled eggs, I start with hard-cooked eggs and pop out the yolks to make a smooth and tangy base. However, instead of carefully piping the sunshine-colored filling back into a bunch of halved egg whites, I simply chop up the whites and add some herbs and flavor boosters to transform it into my favorite egg salad. It's even simpler to make if you already have pre-cooked eggs in your fridge.
Now, let's whip up my Bacon Deviled Egg Salad recipe and make you the star of your neighborhood block parties!
Serves 4
Ingredients:
10 large eggs
4 ounces bacon, chilled in freezer for 20 minutes
1 tablespoon Dijon mustard
2 tablespoons fresh lemon juice
1 large shallot, minced (about ¼ cup)
¼ cup minced fresh Italian parsley leaves
2 tablespoons minced fresh chives
1½ teaspoons Diamond Crystal brand kosher salt (use ½ the amount if you're using a fine grain salt)
¼ teaspoon ground black pepper
lettuce leaves (optional)
½ cup sprouts (optional)
Small sweet peppers (optional)
Equipment:
Method:
Hard cook your eggs the old-fashioned way, in a steamer, or in a pressure cooker. (I won't tell anyone if you buy the pre-cooked peeled eggs at the store.)
For those of you who don't have a pressure cooker, steaming your eggs is another cooking method that makes them super easy to peel. I follow this technique from Serious Eats, which involves filling a large pot with an inch of water, plopping in a steamer insert, covering the pot, and bringing the water to a boil over high heat. Once the water is boiling, carefully arrange the eggs in a single layer in the steamer insert. Cover the pot and steam the eggs for 12 minutes.
When the eggs are finished cooking, scoop 'em out with a slotted spoon and transfer them to an ice bath to chill for at least 5 minutes.
While the eggs are cooking, slice the chilled bacon crosswise into ¼-inch pieces. Toss the bacon slices into a large cast iron skillet and crank the heat up to medium. Slowly render the bacon until the grease is released and the bits get crunchy (around 15 to 20 minutes).
Transfer the crispy bacon bits onto a paper towel-lined plate and set aside to cool.
Peel the eggs…
…and cut them in half, lengthwise.
Pop out the yolks into a bowl…
…and add the mayonnaise, mustard, and lemon juice.
Stir and smush, until mostly smooth.
Roughly chop the egg whites…
…and add them to the bowl along with the minced shallots, parsley, chives, salt and pepper.
Mix carefully to combine. Taste for seasoning and adjust if necessary.
Scoop into serving bowls (and line with lettuce leaves if desired). Top with sprouts and crispy bacon bits.
Serve!
I know—some of you are probably upset that I never ended up making deviled eggs after all. Well, if you really feel like stuffing something, I recommend spooning your egg salad into mini sweet bell peppers. The peppers offer a brightly sweet and crunchy balance to the creamy, rich egg salad.
You can store the egg salad in the fridge for up to 4 days—just don't add the sprouts and bacon bits until you're ready to serve!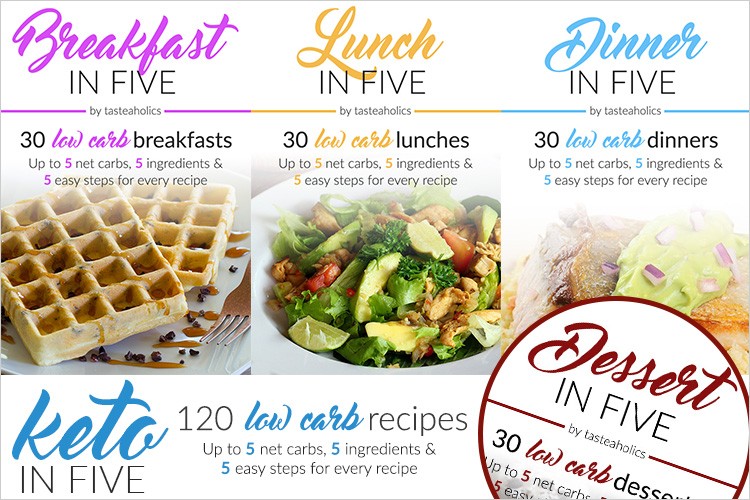 As you already know, the key to success is simplicity and satisfaction with your diet. I've been on Keto for a long time now, and these are the best e-cookbooks I could ever put my hands on: Breakfast in Five, Lunch in Five, Dinner in Five & Dessert in Five.
Each ebook contains 30 recipes. Every recipe is made with just 5 ingredients and has up to 5 grams of net carbs. That means you can have seconds of any meal and you'll still be within your daily carb limit!
If you're ready to invest a small amount of money to get your precious time and pleasure back, be sure to check it out.