Fizzy's Tip: Serve these sliders with ketchup, relish, caramelized red onions, guacamole, salsa, mustard, or barbecue sauce
Ingredients:
12 ounces ground beef formed into 8 (1 1/2 ounce) patties
2 ounces cheddar cheese cut into four 3/8–inch cubes
1/2 teaspoon kosher salt
1/4 teaspoon black pepper
4 slider buns
Instructions:
Place one cheese cube on each of 4 patties, and then top with the remaining 4 patties. Pinch the sides together to seal the edges, and reshape the patties into 2-inch rounds. Season with the salt and pepper.
Heat a 12-inch skillet (a cast iron skillet works great here) over high heat; once hot, add the hamburger patties. Cook until the cheese is melted, 3 to 5 minutes per side, or longer for well done. Transfer to the buns, and serve.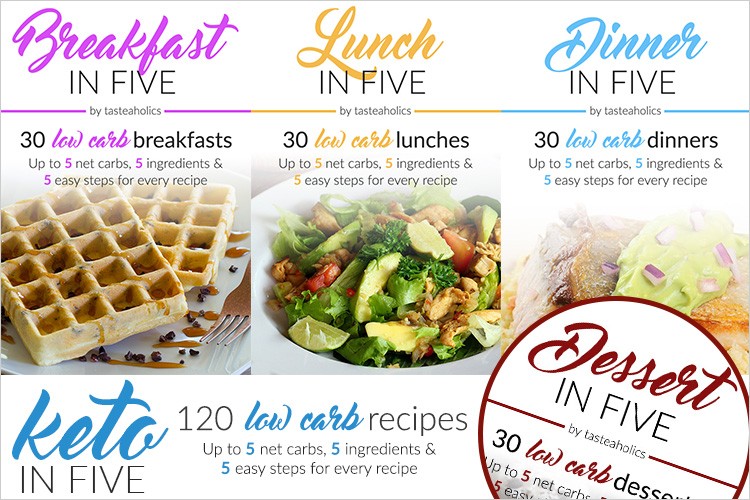 As you already know, the key to success is simplicity and satisfaction with your diet. I've been on Keto for a long time now, and these are the best e-cookbooks I could ever put my hands on: Breakfast in Five, Lunch in Five, Dinner in Five & Dessert in Five.
Each ebook contains 30 recipes. Every recipe is made with just 5 ingredients and has up to 5 grams of net carbs. That means you can have seconds of any meal and you'll still be within your daily carb limit!
If you're ready to invest a small amount of money to get your precious time and pleasure back, be sure to check it out.