or St Stephens Day muffins, Light muffins with a festive spice taste.
Ingredients:
* 2 tbsp irish whiskey, brandy or sherry
* icing sugar, for dusting
* 125g christmas pudding
* 125g plain flour
* 75g caster sugar
* 25g butter, melted
* 1 tsp baking powder
* 1 tsp mixed spice
* 75ml milk
* 1 egg
Instructions:
Preheat the oven to 180C/Gas 4. Line a muffin tin with paper cases.
Whisk the egg in a bowl and add the milk, melted butter, sherry, whisky or brandy and the pieces of Christmas pudding.
Sift the flour, baking powder, mixed spice and sugar together. Make a well in the centre and add the wet ingredients and mix together until a soft lumpy batter forms.
Spoon the mixture into the paper cases and bake in the oven. 20-25 minutes for large muffins, 15-20 minutes for cupcake size and 10-15 minutes for mini muffins.
Allow to cool on a wire rack and dust with icing sugar before serving.
Alternatively pipe a little buttercream on the top.
Makes 12 large or 24 medium muffins.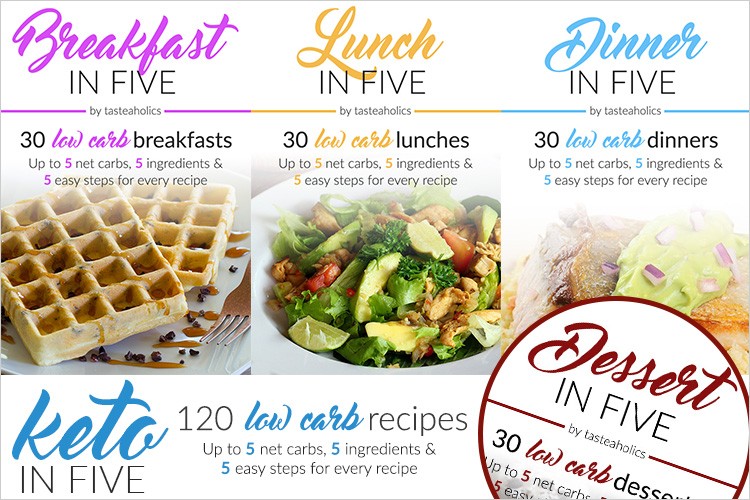 As you already know, the key to success is simplicity and satisfaction with your diet. I've been on Keto for a long time now, and these are the best e-cookbooks I could ever put my hands on: Breakfast in Five, Lunch in Five, Dinner in Five & Dessert in Five.
Each ebook contains 30 recipes. Every recipe is made with just 5 ingredients and has up to 5 grams of net carbs. That means you can have seconds of any meal and you'll still be within your daily carb limit!
If you're ready to invest a small amount of money to get your precious time and pleasure back, be sure to check it out.