Ingredients
Halloween sprinkles and small candies, for decoration
8 craft sticks, twigs or cinnamon sticks
8 crisp apples
1 1/3 cups candy melts in orange and green
1 1/3 cups chocolate candy melts
How to Make It
Step 1
Line a large cookie sheet with waxed paper. Pour sprinkles and candy into small bowls.
Step 2
Insert stick into stem ends of each apple. Make sure sticks are tightly secured.
Step 3
Place each color of candy melts in a separate microwave-safe, 2-cup measuring cup or bowl. To melt, work with one cup of candy at a time and microwave on medium for 1 minute. Stir and then microwave in 15-second intervals until totally melted.
Step 4
Holding apple by stick, dip it into melted candy, swirling until apple is fully coated. While coating is still wet, dip apple into sprinkles or sprinkle small candies all over apple. Place finished apple on prepared cookie sheet to set for at least 30 minutes or up to 1 day before serving. Repeat with remaining apples and candy.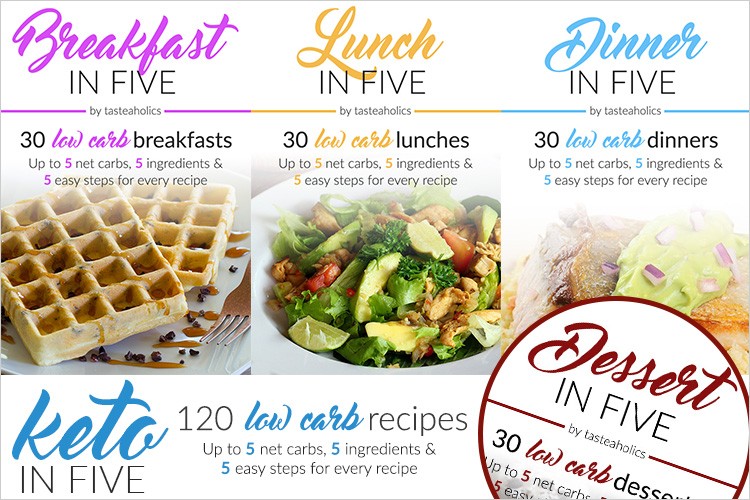 As you already know, the key to success is simplicity and satisfaction with your diet. I've been on Keto for a long time now, and these are the best e-cookbooks I could ever put my hands on: Breakfast in Five, Lunch in Five, Dinner in Five & Dessert in Five.
Each ebook contains 30 recipes. Every recipe is made with just 5 ingredients and has up to 5 grams of net carbs. That means you can have seconds of any meal and you'll still be within your daily carb limit!
If you're ready to invest a small amount of money to get your precious time and pleasure back, be sure to check it out.