Ingredients:
8 tbsp unsalted butter, room temperature (1 stick),For the Chocolate Tart Dough,
1/2 cup Confectioners Sugar,For the Chocolate Tart Dough
1 tbsp Confectioners Sugar,For the Chocolate Tart Dough
1 x large egg yolk,For the Chocolate Tart Dough
1 tsp pure vanilla extract,For the Chocolate Tart Dough
1 1/4 cup all-purpose flour, plus more for rolling,For the Chocolate Tart Dough
1/4 cup unsweetened Dutch-process cocoa powde,For the Chocolate Tart Doughr
1/2 cup water,For the Caramel Filling
2 cup Granulated Sugar,For the Caramel Filling
1/4 cup Light Corn Syrup,For the Caramel Filling
1/2 cup heavy cream,For the Caramel Filling
8 tbsp Unsalted Butter(1 stick),For the Caramel Filling
2 tbsp Creme fraiche,For the Caramel Filling
1/2 cup heavy cream,For the Chocolate Ganache
3 1/2 oz extra bittersweet chocolate, chopped,For the Chocolate Ganache
Make the tart dough: In the bowl of an electric mixer fitted with the paddle attachment, cream butter and confectioners' sugar until combined, about 1 minute. Add egg yolk and vanilla, and beat until smooth. Sift in flour and cocoa powder, and beat on low speed until just combined. Scrape the dough onto a sheet of plastic wrap, and form it into a disk; wrap well. Chill until firm, at least 1 hour and up to 3 days.
Preheat oven to 325° F. On a lightly floured surface, roll the tart dough into a large circle 3/16 inch thick. Transfer the tart dough to a 10-inch fluted tart pan with a removable bottom and press into pan. If it falls apart at all just push it back together in the pan. Chill the tart shell in the refrigerator for 30 minutes.
Prick the shell all over with a fork.  Line with parchment paper filled with pie weights or dried beans and blind bake for 15 minutes. Remove the parchment and weights, and bake until the pastry looks dry and set, 5 to 10 minutes. Transfer pan to a wire rack to cool. (The tart shell can be made 8 hours ahead.)
Make the filling: Place 1/2 cup water in a large saucepan. Add sugar and corn syrup, and cook mixture over medium-high heat, swirling the pan occasionally, until it becomes a dark-amber caramel (I removed it when it was sort of a medium amber since I knew it would continue to cook off heat), about 10 minutes. Remove pan from heat and carefully (the mixture will bubble up) and slowly add the heavy cream followed by the butter and crème fraîche. Stir until smooth. (The caramel can be made up to 5 days ahead and refrigerated in a covered container.) Pour the caramel into the cooled tart shell and allow to set, first at room temperature and then in the regrigerator.
Make the ganache glaze: Place the chocolate in a heatproof bowl. In a small saucepan, bring cream to a boil. Pour the hot cream over the chocolate, and let stand for 2 minutes, then stir with a rubber spatula until smooth. Pour the ganazhe over the tart. Refrigerate until set.
Remove the tart from the refridgerator 5-10 minutes before you are ready to serve it. Cut the tart into slices and sprinkle each with Fleur de Sel.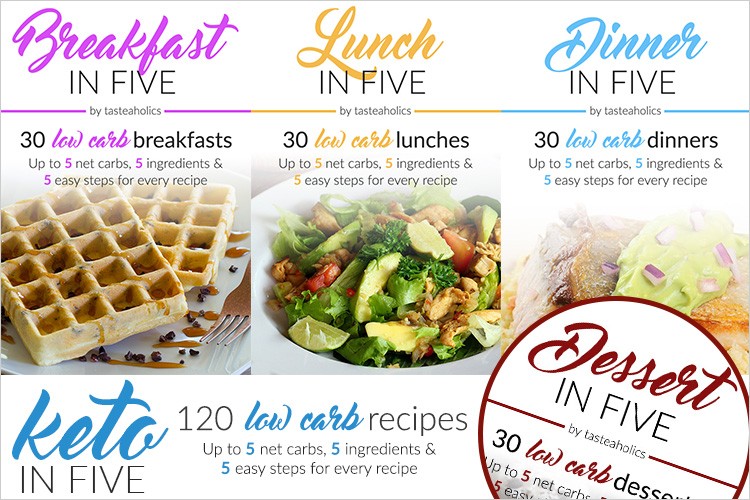 As you already know, the key to success is simplicity and satisfaction with your diet. I've been on Keto for a long time now, and these are the best e-cookbooks I could ever put my hands on: Breakfast in Five, Lunch in Five, Dinner in Five & Dessert in Five.
Each ebook contains 30 recipes. Every recipe is made with just 5 ingredients and has up to 5 grams of net carbs. That means you can have seconds of any meal and you'll still be within your daily carb limit!
If you're ready to invest a small amount of money to get your precious time and pleasure back, be sure to check it out.