Chocolate-Dipped Strawberries
24 ounces good-quality semisweet chocolate chips
6 ounces white chocolate chips or white bar chocolate, chopped
12 to 16 large strawberries with good, strong stems
Melt both the semisweet and white chocolate in separate glass bowls set over saucepans of simmering water or in the microwave. Line a baking sheet with parchment paper.
Grab a strawberry and gently lay it on its side in the bowl of melted semisweet chocolate. Hold it by the stem and twist it so that it's mostly covered with chocolate. Gently lay it on its side on the sheet of parchment. Repeat with the rest of the strawberries.
Let the strawberries sit at room temperature to set slightly, about 30 minutes. (If you're in a hurry, you may place them in the fridge.)
Transfer the melted white chocolate to a small piping bag and drizzle stripes all over the chocolate on the strawberries–you can do any designs you like! Then store the strawberries in the fridge to set completely.
Serve them on a pretty cake stand or pack them in a box or small bags for delivery.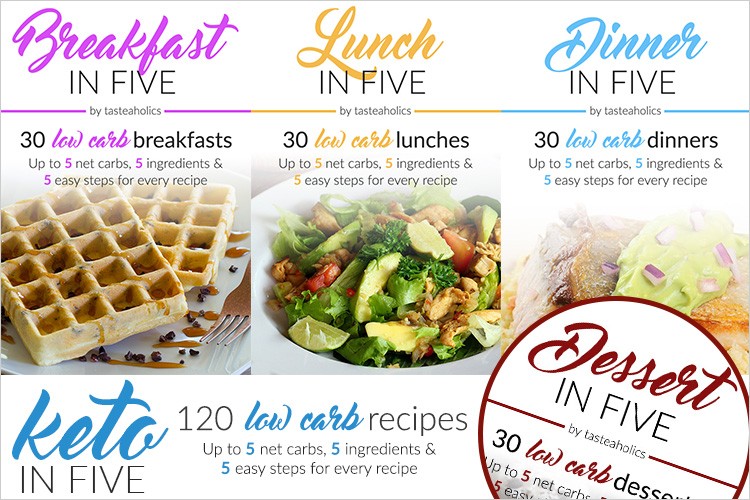 As you already know, the key to success is simplicity and satisfaction with your diet. I've been on Keto for a long time now, and these are the best e-cookbooks I could ever put my hands on: Breakfast in Five, Lunch in Five, Dinner in Five & Dessert in Five.
Each ebook contains 30 recipes. Every recipe is made with just 5 ingredients and has up to 5 grams of net carbs. That means you can have seconds of any meal and you'll still be within your daily carb limit!
If you're ready to invest a small amount of money to get your precious time and pleasure back, be sure to check it out.