Ingredients:
Sweet Shortcrust Pastry
225 grams plain flour
25 grams cocoa powder
125 grams unsalted cold butter,chopped
80 grams icing sugar
2 egg yolks
1 teaspoon vanilla essence
3 tablespoons cold water
Cheese Filling:
250 grams cream cheese(room temperature)
4 tablespoons icing sugar
1 teaspoon grated lemon rind
1 teaspoon lemon juice
Kiwi Filling:
2 golden kiwi
1 tablespoon icing sugar
Dash of yellow colouring (optional)
1 1/2 teaspoons corn flour mix with 1 tbsp water
Preparation
1- For the crust:
2- Sift the flour and cocoa powder into a large bowl and add in the butter.
3- Rinse your hand with ice water and wipe dry.
4- Using your fingertips ,rub the butter into the flour until fine and crumbly.
5- Stir in the sugar.
6- Add in the combined egg yolks and vanilla essence.
7- Add in 2 tbsp of ice cold water and mix with the dough.
8- Cut with a knife to form a dough.
9- Gather together to form a smooth dough.
10- Add another tbsp of ice cold water if the dough could not be held together.
11- Roll out the pastry and cut into round using a 6-7cm cutter.Lime deep patty pans with the pastry rounds.Refrigerate for 10 mins.Pre heat oven to 200C.Cover each pastry shell with baking paper and fill with rice or beans .Bake for 10mins .Discard the paper and rice,then bake for further 5 -7mins .Cool completely before filling with cheese .
12- For cheese filling:
13- Using electric beater,beat together cream cheese ,icing sugar,grated lemon rind and juice.
14- Pipe or spoon the mixture into cooled pastry cases.
15- For kiwi filling:
16- Puree the kiwi fruit. In a heat proof pan, add in puried kiwi,icing sugar, and colouring .
17- Some kiwi fruits are sweet while some sourish.
18- Adjust the icing sugar as to required amount.
19- Simmer gently and thicken the sauce with corn flour mixture.
20- Leave to cool.
21- Place a tsp or enough sauce to cover the cream cheese filling on the tart.
22- Decorate as per your liking and serve.
23- You can dust with icing sugar if preferred.
24- You can also use cut kiwis instead of preparing the kiwi filling.
25- Just glaze the fruits with some jam.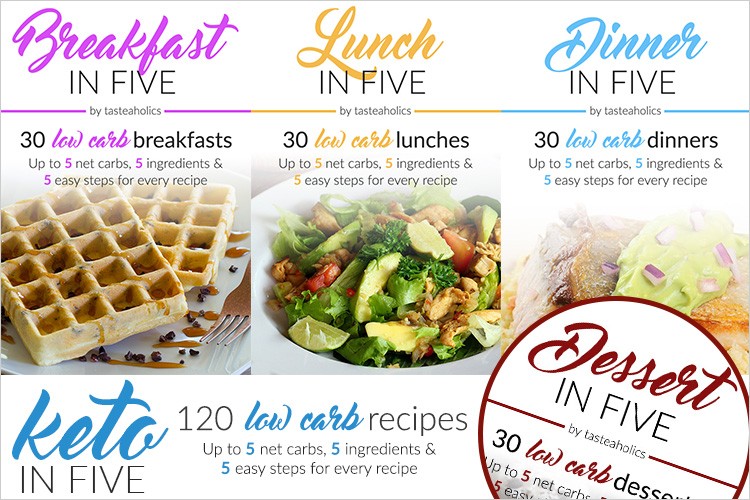 As you already know, the key to success is simplicity and satisfaction with your diet. I've been on Keto for a long time now, and these are the best e-cookbooks I could ever put my hands on: Breakfast in Five, Lunch in Five, Dinner in Five & Dessert in Five.
Each ebook contains 30 recipes. Every recipe is made with just 5 ingredients and has up to 5 grams of net carbs. That means you can have seconds of any meal and you'll still be within your daily carb limit!
If you're ready to invest a small amount of money to get your precious time and pleasure back, be sure to check it out.