Cooks In 30 minutes plus chilling
Difficulty: Not too tricky
Ingredients
1 small mango
1 small pineapple
1/2 pomegranate
100 ml dark rum
4 tablespoons flaked almonds
1/2 tablespoon granulated sugar
1 splash of golden rum
250 g Christmas pudding or fruit cake
250 ml thick custard
120 g quality cherry jam
2 clementines
230 ml double cream
15 g dark chocolate (70%)
Method
Prepare the mango and pineapple, roughly chopping the all the flesh. Place in a bowl along with the pomegranate seeds. Mix in 20ml of the dark rum and set aside.
Heat a pan over a medium heat, add the almonds and sugar and cook for 2 to 3 minutes or until golden. Add the golden rum and cook for a few minutes. Transfer to a bowl and leave to cool.
Roughly chop the Christmas pudding or cake, then place in a 1.5-litre glass bowl and press firmly into the base. Drizzle over the remaining 80ml dark rum then pour over the custard.
Cover the bowl with clingfilm and refrigerate for at least 3 hours so the custard can set a little.
Remove the trifle from the fridge and spoon the cherry jam over the custard. Finely grate the clementine zest and put aside, then break up into segments. Add the chopped fruit to the trifle, then layer over the clementine segments.
Whip the cream to soft peaks, then use it to top the trifle. Decorate with the toasted almonds, scatter over the reserved clementine zest, then shave over the chocolate and serve.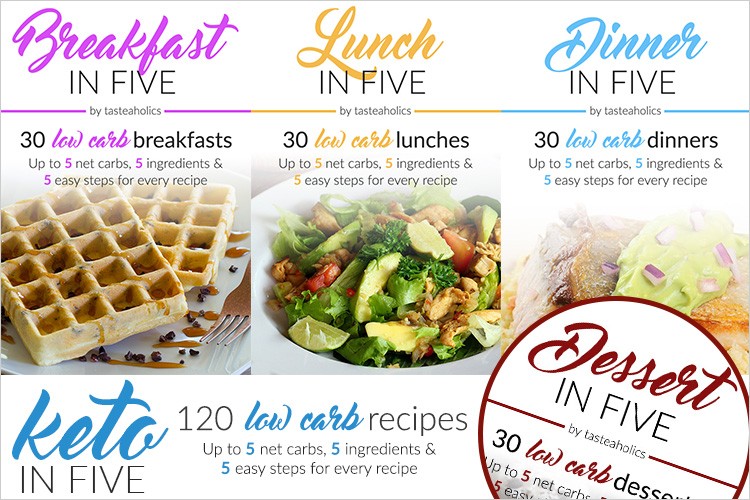 As you already know, the key to success is simplicity and satisfaction with your diet. I've been on Keto for a long time now, and these are the best e-cookbooks I could ever put my hands on: Breakfast in Five, Lunch in Five, Dinner in Five & Dessert in Five.
Each ebook contains 30 recipes. Every recipe is made with just 5 ingredients and has up to 5 grams of net carbs. That means you can have seconds of any meal and you'll still be within your daily carb limit!
If you're ready to invest a small amount of money to get your precious time and pleasure back, be sure to check it out.