This one is super easy and you can make it in a snap. It was really easy for me because a friend made and gave me some today. Now, it won't win any beauty contests, but it will definitely win you some new friends. It's deceptively delicious. Below is her recipe, amended from another friend's recipe. But that's what's so great about it. Totally customizable. Feel free to change it up and add or substitute ingredients. Get creative and use whatever you want in your mix – Cheerios, Reese's Pieces, butterscotch chips, chocolate chips etc. We all call this Christmas Crack because it is highly addictive. But for a more family friendly name, how about…
Christmas Crunch
1 24 oz. pkg. white bark coating (we use Kroger candy coating, but you can also use white chocolate)
1 box of corn or rice chex
1 large bag of mini pretzels
1 large jar of salted dry roasted peanuts
2 – 12oz. package of plain M&Ms (you can use holiday varieties at any time of year to make it holiday themed – Christmas, Easter, Halloween, etc.)
You can really use any size packages you want. It depends on how much of each you want in your mix.
Just have fun!
Cover a fairly large area of your counter space with wax paper and tape down.
In a very large bowl, combine the chex, pretzels, peanuts and M&Ms. You might have to work in smaller batches if you can't fit everything in one bowl with room to mix. Dump the peanuts and M&Ms in last so they don't all sink to the bottom.
In a smaller bowl, melt your bark coating in the microwave in 30 second intervals and stir in between. Don't let it go for too long at once or it will scald and you will have to toss it out and start over.
When the bark coating is melted, gently pour into the larger bowl and toss with the dry ingredients. You can adjust the amount of coating you use based on your preference. I usually stir a little bit in, toss, stir some more in, toss again, etc. to make sure everything gets a little bark coating on it so it will stick together.
Working quickly, dump the mixture out on your wax paper and spread out in a thin layer to dry. Once it's dry, break it apart into pieces and store in an airtight container or divide into decorative cello bags to give away.
Note: If you half your mix ingredients and bark coating, it will be a little easier to work with in two batches. Otherwise you will need a really large bowl and workspace to spread out on the counter.
Enjoy!
Here's another easy treat that's just as addictive.
Reindeer Chow. Make some. You'll be glad you did.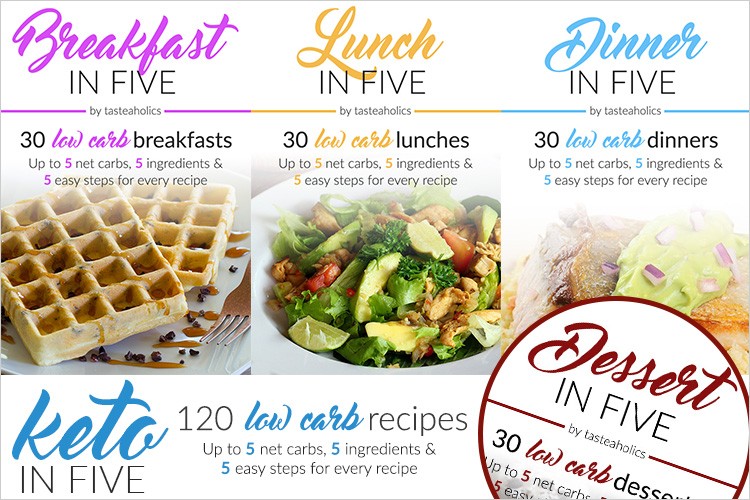 As you already know, the key to success is simplicity and satisfaction with your diet. I've been on Keto for a long time now, and these are the best e-cookbooks I could ever put my hands on: Breakfast in Five, Lunch in Five, Dinner in Five & Dessert in Five.
Each ebook contains 30 recipes. Every recipe is made with just 5 ingredients and has up to 5 grams of net carbs. That means you can have seconds of any meal and you'll still be within your daily carb limit!
If you're ready to invest a small amount of money to get your precious time and pleasure back, be sure to check it out.