Corn Cakes with Christmas Caviar
INGREDIENTS
DIRECTIONS
Heat olive oil in a medium skillet over medium heat. Add corn, shallots, 1/2 teaspoon salt, and black pepper. Cook, stirring, until corn and shallots are tender, about 5 minutes. Remove from heat; set aside.

In a large bowl, whisk together eggs and cream until well combined. Add cornmeal, flour, masa harina, baking powder, cayenne pepper, remaining 1/2 teaspoon salt, and 3/4 cup water. Mix until well combined. Fold in corn-and-shallot mixture.

Heat 1/2 teaspoon oil in a large nonstick skillet over medium-high heat. When oil is hot, gently drop batter, a tablespoon at a time, into pan, working in batches as necessary. Cook, turning once, until cakes are lightly golden, about 1 1/2 minutes per side. Using a spatula, carefully transfer cakes to a paper towel-lines plate to drain. Repeat process with remaining oil and batter.

Sprinkle cakes with Creole seasoning and serve warm with caviar sauce.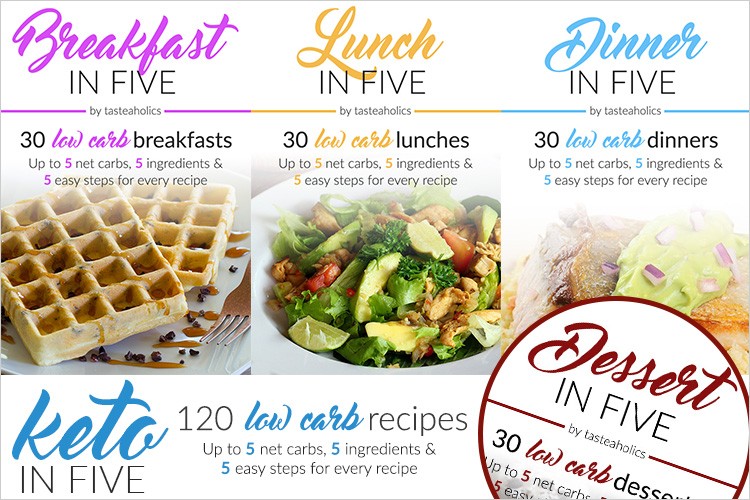 As you already know, the key to success is simplicity and satisfaction with your diet. I've been on Keto for a long time now, and these are the best e-cookbooks I could ever put my hands on: Breakfast in Five, Lunch in Five, Dinner in Five & Dessert in Five.
Each ebook contains 30 recipes. Every recipe is made with just 5 ingredients and has up to 5 grams of net carbs. That means you can have seconds of any meal and you'll still be within your daily carb limit!
If you're ready to invest a small amount of money to get your precious time and pleasure back, be sure to check it out.