Dessert Wine Gelees with Citrus Fruit recipes
Ingredients:
5 tablespoons cold water
3 packages unflavored gelatin (about 3 tablespoons total)
1/2 cup sugar
1/2 cup water
1 cup orange muscat dessert wine
1 1/4 cups Sauternes or similar sweet wine
1 each grapefruit, blood orange, navel orange, tangerine, and Meyer lemon, or another combination
Instructions:
1. Combine 5 tablespoons cold water and gelatin in a bowl. Let stand 5 minutes.
2. Combine sugar, 1/2 cup water, and wines in a saucepan over medium heat. Simmer until sugar has dissolved. Add gelatin mixture, and whisk until melted. Cook 1 minute. Remove from heat, and pour through a fine sieve into a 9-by-13-inch glass baking dish. Let cool completely.
3. Cut peel and pith from citrus. Cut each segment from membranes, then cut horizontally into 1/8- to 1/4-inch-thick slices (you will need 1 cup). Arrange in a single layer over gelatin mixture. Refrigerate, uncovered, overnight.
4. To unmold, run a knife around edge of dish. Using an offset spatula, gently coax gelatin from sides. Invert and turn out onto a cutting board. Trim edges, and cut into 1 1/4-inch squares. Serve immediately, or refrigerate, uncovered, up to 1 day.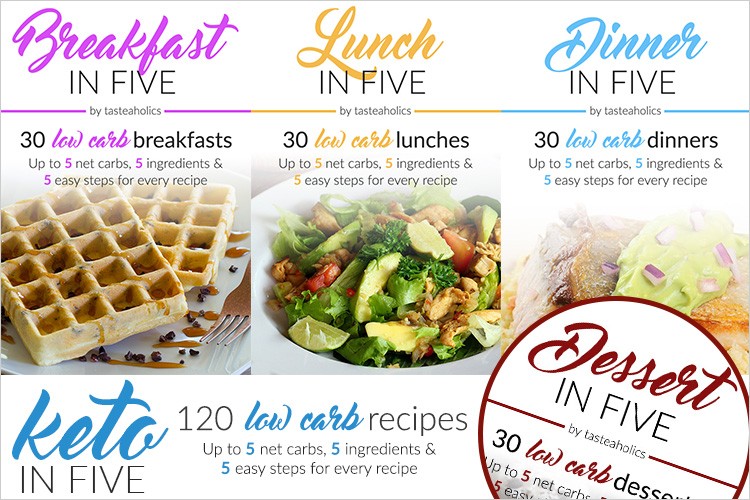 As you already know, the key to success is simplicity and satisfaction with your diet. I've been on Keto for a long time now, and these are the best e-cookbooks I could ever put my hands on: Breakfast in Five, Lunch in Five, Dinner in Five & Dessert in Five.
Each ebook contains 30 recipes. Every recipe is made with just 5 ingredients and has up to 5 grams of net carbs. That means you can have seconds of any meal and you'll still be within your daily carb limit!
If you're ready to invest a small amount of money to get your precious time and pleasure back, be sure to check it out.