Light, creamy and natural homemade yogurt – that's just so easy to make, and yet tastes so good with a small serving of fruits, nuts and seeds.
Ingredients:
* 1 liter of cow's milk (full fat or skim milk, your choice)
* 1 tablespoon of sugar (for diabetic, best to leave out the sugar)
* 1/2 cup of non flavoured, unsweetened yogurt
Instructions:
Bring the milk to a boil (If adding sugar, mix in sugar with milk before boiling).
When milk has started to boil, switch off the fire, and let milk cool on the stove for 20 minutes.
After milk has cooled, remove the layer that has coagulated on the surface, and throw it away.
Add in the yogurt to the milk and mix well.
Transfer the mixture to a plastic container, seal the container, and wrap it with a couple of kitchen towels.
Place the towel-wrapped container in a plastic bag, and leave it in a warm place where there is no air flow for the next 12 hours (I placed it in my oven, but you can place it in the kitchen cupboard or somewhere else)
After 12 hours, remove the plastic bag and towels and place the container in the refridgerator for another 12 hours. You can also transfer the yogurt into separate individual pots before chilling it.
Serve yogurt chilled with a small serving of fresh fruits a handful of nuts and seeds of your choice.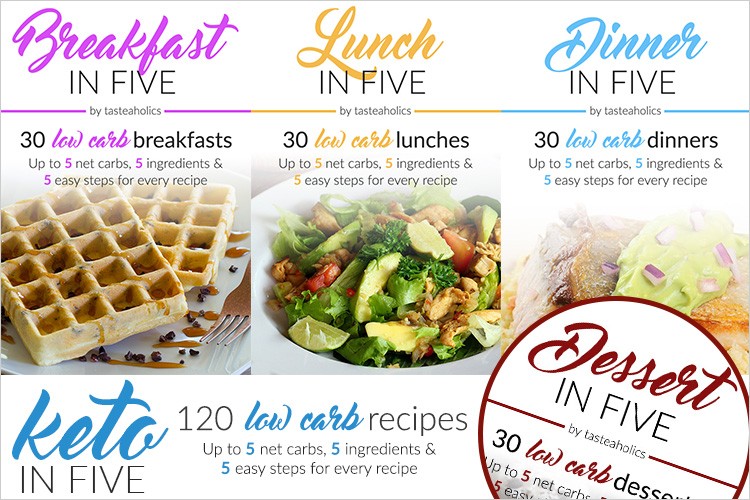 As you already know, the key to success is simplicity and satisfaction with your diet. I've been on Keto for a long time now, and these are the best e-cookbooks I could ever put my hands on: Breakfast in Five, Lunch in Five, Dinner in Five & Dessert in Five.
Each ebook contains 30 recipes. Every recipe is made with just 5 ingredients and has up to 5 grams of net carbs. That means you can have seconds of any meal and you'll still be within your daily carb limit!
If you're ready to invest a small amount of money to get your precious time and pleasure back, be sure to check it out.