Eggplant And Quinoa Involtini
Some of my favourite foods involve a filling wrapped in something. Potstickers and bacon wrapped dates are just two examples of little parcels of tastiness whose wrappers not only serve to hold everything together, but add complimentary tastes and textures in the process. Involtini is a southern Italian dish typically made with veal or beef
Some of my favourite foods involve a filling wrapped in something. Potstickers and bacon wrapped dates are just two examples of little parcels of tastiness whose wrappers not only serve to hold everything together, but add complimentary tastes and textures in the process.
Involtini is a southern Italian dish typically made with veal or beef wrapped around a filling. This vegetarian version inspired by Nigella Lawson's "Soft and Sharp Involtini" is a little more Greek in flavor. Upon actually looking up the recipe in Nigella Bites, I'm realizing it's actually quite different, so let's just say it's inspired in spirit.
The smokey grilled eggplant makes the perfect wrapper for the tart creamy filling. The mint gives it a nice fresh taste and with the quinoa, you'd swear there was some ground meat in it. It looks complicated but it took me a little less than an hour to prep.
Eggplant and Quinoa Involtini
Ingredients
for sauce
1

tablespoon

1

2

cloves

1

teaspoon

14

oz

tomatoes

whole hand crushed cans

1/4

teaspoon

black pepper

fresh ground
for filling
3/4

Cup

1/2

Cup

1/4

Cup

red bell peppers

roasted chopped

1/4

Cup

2

tablespoons

2

tablespoons

1

teaspoon

1

teaspoon
Steps
Slice the eggplant lengthwise just a bit thinner than 1/4″. I used a french mandoline, but you could probably do this with a sharp knife. Toss the end pieces. You should have 12 uniform slices. Use a pastry brush or other implement to coat both sides with a generous dose of olive oil.

Put your oven rack to the top position and broil the eggplant for a few minutes on one side until the surface is nice and brown. If your oven is retarded like mine, you'll probably need to do it in a couple of batches to brown them evenly. If you don't already have some roasted red pepper sitting in the fridge, this is also the perfect time to grill some for the filling.

While the eggplant is in the oven you can get the sauce started. Saute the onions, garlic and oregano in the olive oil until fragrant and soft. Add the tomatoes and salt and pepper simmering for about 15 minutes until it's slightly reduced and nice and thick.

For the filling, just toss all the ingredients into a bowl and stir to combine. Feta is usually pretty salty so you probably don't need to add any salt. My feta was a bit lacking in the salt department so I added a pinch. My feta was also pretty soft, so I didn't need to use an egg to bind it together, but if your filling is too crumbly, add an egg at this point.

Preheat the oven to 350 degrees. To make the rolls, just drop about a tablespoon of filling onto a piece of eggplant and roll. I used an 8″x8″ glass pyrex, so I had 3 rows of 4 in the pan. Cover the rolls with tomato sauce then top with the slices of fresh mozarella. I sprinkled some paprika on top of the cheese for a bit of color.

Bake for 30-45 minutes until the sauce is nice and bubbly and the cheese has browned a bit on top. If the cheese needs more browning you can turn the oven on to broil for a few minutes to finish it off.

I served this with a mint chiffonade on top and a baby mizuna salad dressed with a lemon mint vinaigrette.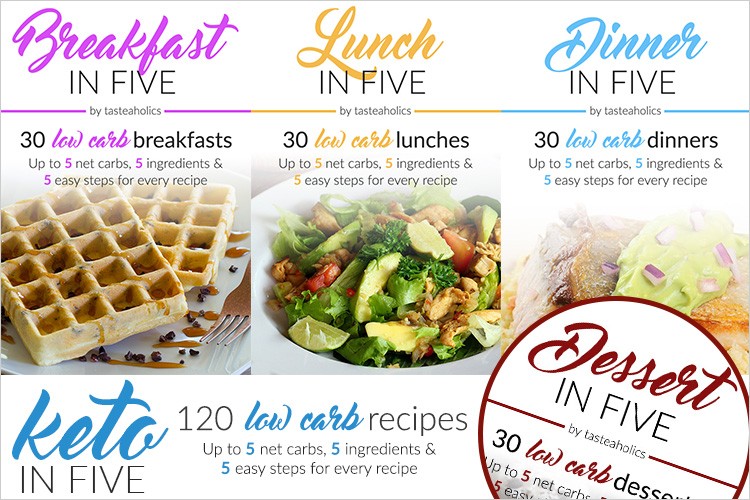 As you already know, the key to success is simplicity and satisfaction with your diet. I've been on Keto for a long time now, and these are the best e-cookbooks I could ever put my hands on: Breakfast in Five, Lunch in Five, Dinner in Five & Dessert in Five.
Each ebook contains 30 recipes. Every recipe is made with just 5 ingredients and has up to 5 grams of net carbs. That means you can have seconds of any meal and you'll still be within your daily carb limit!
If you're ready to invest a small amount of money to get your precious time and pleasure back, be sure to check it out.