Grilled Vegan Caesar Salad
Ingredients:
2 Tbsp olive oil
3 romaine lettuce hearts, cut in half lengthwise
sea salt
1 cup Homemade Garlic Croutons (recipe follows) or store-bought croutons
¼ cup chopped fresh flat-leaf parsley
1 cup Vegan Caesar Dressing (recipe follows)
1 garlic head
4 Tbsp olive oil
sea salt
2 cup day-old bread (preferably whole wheat), torn or cut into bite-size cubes
4 medium garlic cloves, peeled
¼ cup fresh lemon juice (from about 2 lemons)
2 Tbsp capers plus
1 Tbsp caper brine
1 Tbsp powdered mustard
A dash of vegan Worcestershire sauce (optional)
⅓ cup raw sunflower seeds
⅓ cup slivered almonds
3 Tbsp nutritional yeast (see Notes)
½ Tbsp fresh-cracked black pepper
½ tsp black pepper
½ tsp sugar (optional)
¾ cup extra-virgin olive oil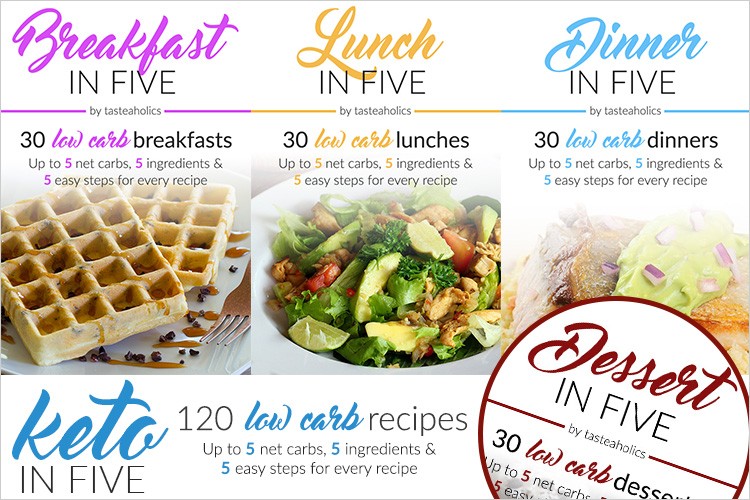 As you already know, the key to success is simplicity and satisfaction with your diet. I've been on Keto for a long time now, and these are the best e-cookbooks I could ever put my hands on: Breakfast in Five, Lunch in Five, Dinner in Five & Dessert in Five.
Each ebook contains 30 recipes. Every recipe is made with just 5 ingredients and has up to 5 grams of net carbs. That means you can have seconds of any meal and you'll still be within your daily carb limit!
If you're ready to invest a small amount of money to get your precious time and pleasure back, be sure to check it out.