Ingredients:
3 cups Cheerios
3 cups Rice Chex
3 cups Wheat Chex
1 cups Pretzel Sticks
2-3 cups Halloween Colored m&m's
24 oz White Chocolate (plus an extra 4-8 oz if needed)
Instructions:
In a large bowl (or wok, or giant tupperware or punch bowl) combine the Cheerios, Chex, Pretzels and m&m's. Mix them up a bit, making sure that everything is evenly distributed.
Meanwhile, over a double boiler, melt the white chocolate according to the directions on the package.
Once the chocolate has melted and is a smooth consistency, drizzle the chocolate over the cereal mix and combine with a wooden spoon. Make sure all the cereal is covered in chocolate. If you need to melt the extra white chocolate to cover all the mix then go right on ahead!
Once the entire batch has been combined, lay it out to dry on a large sheet of parchment or wax paper. Let dry for 4 hours so the chocolate is cooled and hard. Break it into pieces and store in zip top bags or package it up into jars to give out as gifts.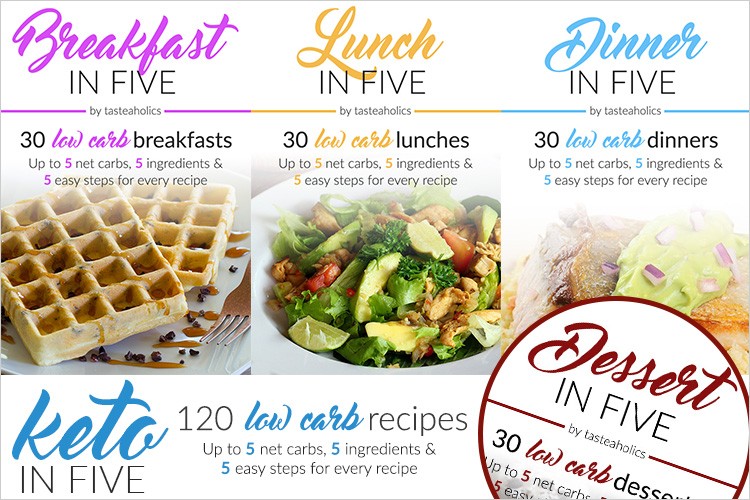 As you already know, the key to success is simplicity and satisfaction with your diet. I've been on Keto for a long time now, and these are the best e-cookbooks I could ever put my hands on: Breakfast in Five, Lunch in Five, Dinner in Five & Dessert in Five.
Each ebook contains 30 recipes. Every recipe is made with just 5 ingredients and has up to 5 grams of net carbs. That means you can have seconds of any meal and you'll still be within your daily carb limit!
If you're ready to invest a small amount of money to get your precious time and pleasure back, be sure to check it out.