Halloween Meringue Cookie
Quick Glance
20 M
1 H
Makes about 12 bones
Special Equipment: Piping bag fitted with a plain 3/8-inch tip
Ingredients
1 cup superfine sugar (or just blitz granulated sugar in a blender until finely ground but not powdery)

3 1/2 ounces (3 to 4 eggs) egg whites

Pinch of salt
Directions
1. Preheat the oven to 400˚F (200˚C). Line 2 baking sheets with parchment paper.
2. Pour the sugar into a baking dish and heat it in the preheated oven for about 4 minutes, until hot to the touch. Remove the sugar from the oven and turn the oven temperature down to 225˚F (110˚C).
3. With a standing mixer or an electric hand-held mixer, whisk the egg whites and salt until foamy. Quickly tip all the hot sugar into the bowl and whisk on medium-high speed until the meringue is very thick, super glossy, and white, 6 to 8 minutes. In order to be sufficiently thick for piping, the meringue should hold soft peaks and, if you feel bold and are so inclined to turn the bowl upside down and hold it over your head, the meringue should stay put.
4. Spoon the meringue into the piping bag. Alternatively, spoon it into a large resealable plastic bag and snip off one of the bottom corners. Pipe a log shape about 4 inches long on the baking sheet. Pipe two small blobs of meringue on each end of the log to make a bone shape. Repeat, spacing the bones a decent distance apart from one another.
5. Bake the meringue bones for about 40 minutes, until crisp and dry to the touch. (The larger your bones, the longer it will take for them to turn crisp and dry.) Turn the oven off but leave the bones inside until they cool to room temperature. The meringue bones will keep in an airtight container for 1 to 2 days.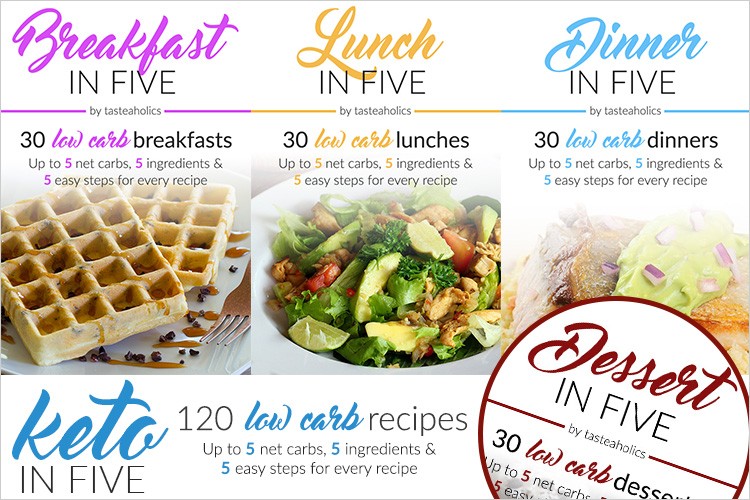 As you already know, the key to success is simplicity and satisfaction with your diet. I've been on Keto for a long time now, and these are the best e-cookbooks I could ever put my hands on: Breakfast in Five, Lunch in Five, Dinner in Five & Dessert in Five.
Each ebook contains 30 recipes. Every recipe is made with just 5 ingredients and has up to 5 grams of net carbs. That means you can have seconds of any meal and you'll still be within your daily carb limit!
If you're ready to invest a small amount of money to get your precious time and pleasure back, be sure to check it out.