Halloween Peppermint Creams
Ingredients:
10oz/2.5 cups icing/confectioners sugar
4 oz/4 tablespoons evaporated milk
¼ teaspoon or 8 – 10 drops of peppermint oil
2oz good quality dark chocolate broken in to small squares (i used green and blacks 70% cocoa)
2oz good quality white chocolate broken in to small squares (again, i used green and blacks)
Instructions:
Mix the sugar, milk and peppermint oil in a bowl until you have a firm-ish dough (you may need to sprinkle a little extra sugar on to make it dry enough to handle).
Pull off little bits of dough and roll in your hands to make little balls, flatten out a bit and shape in to skulls.
Place the skulls on to some grease proof paper on a tray and refrigerate for an hour or so.
Place the white and and dark chocolate in to two small separate bowls, place each one in the microwave for bursts of 30 seconds, stirring between each burst to help it melt. Remove it before it's totally melted to avoid overheating and getting grainy, it should only take about a minute and a half or less.
Using two forks dip the skulls in the chocolate and put back on the greaseproof paper, let the chocolate set a bit before doing the eyes, nose and mouth (you can use any small pointed implement to do this, I used the end of a whisk attachment to do mine!).
Place back in the fridge to let them set completely. I store mine permanently in the fridge as I think they taste better that way.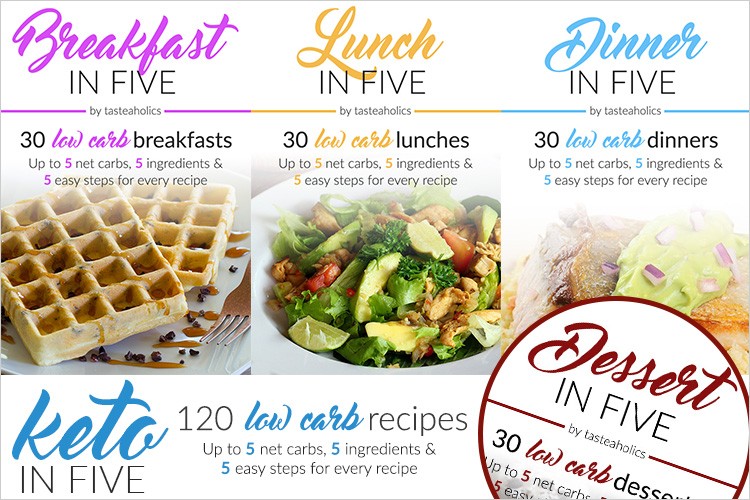 As you already know, the key to success is simplicity and satisfaction with your diet. I've been on Keto for a long time now, and these are the best e-cookbooks I could ever put my hands on: Breakfast in Five, Lunch in Five, Dinner in Five & Dessert in Five.
Each ebook contains 30 recipes. Every recipe is made with just 5 ingredients and has up to 5 grams of net carbs. That means you can have seconds of any meal and you'll still be within your daily carb limit!
If you're ready to invest a small amount of money to get your precious time and pleasure back, be sure to check it out.