Ingredients:
1/2 cup plus 1 tablespoon all-purpose flour
2/3 cup confectioners' sugar
4 tablespoons unsalted butter, room temperature
2 large egg whites, room temperature
1/2 teaspoon pure vanilla extract
Instructions:
1. Preheat oven to 375 degrees. Line a baking sheet with a Silpat baking mat or parchment paper; set aside. Have dowels ready.
2. Sift flour into one bowl and confectioners' sugar into another. In the bowl of an electric mixer fitted with the paddle attachment, cream butter and sifted confectioners' sugar on medium until light and fluffy, 2 to 3 minutes. Beat in egg whites, one at a time, until incorporated. Add sifted flour; mix well. Add vanilla.
3. Divide the batter into four small bowls. Add gel paste one drop at a time until desired color is achieved.
4. Place a stencil flat on the prepared pan. Using an offset spatula, spread a thin, even layer of batter over each opening; scrape off excess batter from the stencil. Carefully lift away stencil.
5. Place tuiles in oven. The cookies will bake in about 5 minutes. Rotate the pan halfway through the baking time to promote even coloration. Remove them when slightly brown around the edges.
6. Work quickly when removing tuiles from the oven; they must be hot and flexible for shaping. Use a spatula to remove the tuiles from the baking sheet, and immediately lay them over a dowel to create a curl. Remove tuiles from dowel once they have set. If the tuiles become too cool before shaping, you may return them to the oven for 30 seconds until they soften, or leave them flat. Store in an airtight container, at room temperature, for up to 1 week.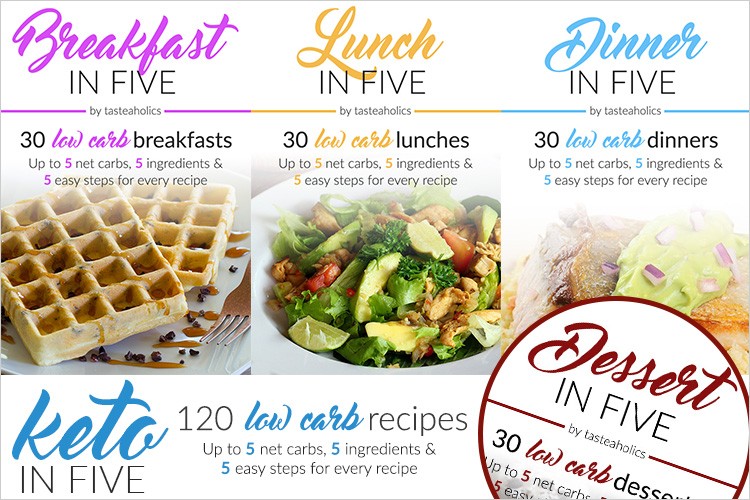 As you already know, the key to success is simplicity and satisfaction with your diet. I've been on Keto for a long time now, and these are the best e-cookbooks I could ever put my hands on: Breakfast in Five, Lunch in Five, Dinner in Five & Dessert in Five.
Each ebook contains 30 recipes. Every recipe is made with just 5 ingredients and has up to 5 grams of net carbs. That means you can have seconds of any meal and you'll still be within your daily carb limit!
If you're ready to invest a small amount of money to get your precious time and pleasure back, be sure to check it out.