Key West Seafood Pasta recipes
This elegant pasta dish is reminiscent of shrimp scampi with its light citrusy flavors.  This is easy to prepare but sophisticated enough for company.
Ingredients
1/2 Pound

shrimp, peeled and deveined

1/2 Pound

bay scallops

1 Tablespoon

olive oil

2

cloves garlic

1

shallot, chopped

2 Tablespoons

butter

1/2 Cup

dry white wine

Juice from 1/2 lemon

2 Tablespoons

Key West Seafood r.u.b.s.*

1/4 Cup

Parmesan cheese

2

leaves fresh basil, chopped

8

cherry tomatoes, halved

1/2 Pound

angel hair pasta, cooked
Directions
Heat oil over medium heat until it shimmers.  Add garlic and shallot and sauté until soft, careful not to burn.  Pour in the white wine, turn up the heat slightly and cook until reduced (around 2-3 minutes).  Turn the pan down to a simmer and add the scallops, shrimp, Key West Seafood seasoning, lemon juice, lemon zest, butter, and parmesan cheese.  Sauté until the shrimp and scallops are warm and sauce is thickened.  Serve over angel hair pasta and sprinkle with fresh basil and tomatoes.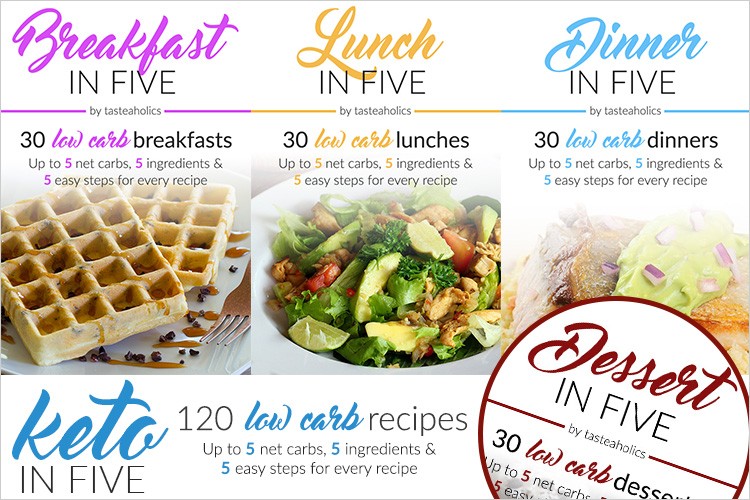 As you already know, the key to success is simplicity and satisfaction with your diet. I've been on Keto for a long time now, and these are the best e-cookbooks I could ever put my hands on: Breakfast in Five, Lunch in Five, Dinner in Five & Dessert in Five.
Each ebook contains 30 recipes. Every recipe is made with just 5 ingredients and has up to 5 grams of net carbs. That means you can have seconds of any meal and you'll still be within your daily carb limit!
If you're ready to invest a small amount of money to get your precious time and pleasure back, be sure to check it out.