Korean Seafood Pancake (Haemul Pajeon)
This savory pancake is very filling and so easy to make; a little batter, some scallions, a mix of your choice of seafood, a little dipping sauce, and you have a full meal. Serve with a little miso soup or kimchi.
Korean Seafood Pancake (Haemul Pajeon)
Ingredients:
2 cups all-purpose flour
2 cups water
2 eggs
1 bunch scallions
Vegetable oil
3 cups mixed seafood of your choice (fresh!) – such as oysters, shrimp, clams, octopus, squid …
Dipping Sauce:
¼ cup soy sauce
½ tbsp rice vinegar
1 stalk scallion, minced
1 clove garlic, minced
½ tsp Korean dried hot chili pepper flakes (optional)
½ tsp sugar
1 tsp sesame oil
Preparation:
Mix the ingredients for the dipping sauce and set aside. In a large bowl, mix the flour and water together, then beat in the egg. The batter should have the same consistency as pancake batter. Add the scallions and seafood.
Heat a griddle, skillet, or frying pan over medium high heat and add a thin layer of oil to the bottom. I prefer to use a spray can. Pour about ¾ cup batter into the skillet in a circle. Cook for 6-8 minutes or until the top stops bubbling and the bottom is browned. Flip over and cook another 6-8 minutes. Transfer to a serving plate.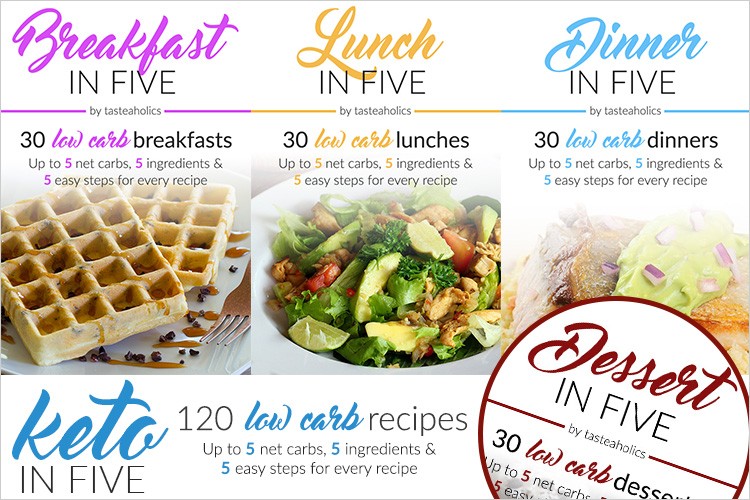 As you already know, the key to success is simplicity and satisfaction with your diet. I've been on Keto for a long time now, and these are the best e-cookbooks I could ever put my hands on: Breakfast in Five, Lunch in Five, Dinner in Five & Dessert in Five.
Each ebook contains 30 recipes. Every recipe is made with just 5 ingredients and has up to 5 grams of net carbs. That means you can have seconds of any meal and you'll still be within your daily carb limit!
If you're ready to invest a small amount of money to get your precious time and pleasure back, be sure to check it out.