Low Carb Cheeseburger Wraps recipes
Need an easy, tasty lunch? Try these low carb cheeseburger wraps!  A keto recipe that the whole family will enjoy!
The following post contains affiliate links, which means that at no extra cost to you I can make a tiny bit of money to help support this blog. Thank you!
I tried out this recipe because I had some leftover ground beef and I fancied eating a burger. But actually when I came to cook, I couldn't quite bring myself to form the patties, and just cooked it straight in the pan. As you probably know I *love* my low carb wraps – so it was easy from there to add strips of sliced cheese and ketchup. Ta-da! The Cheeseburger Wrap!
Heat some olive oil in a skillet, and add chopped onions and ground beef. Cook until the beef is fully cooked. Drain, and season the meat with salt and black pepper. At this point you could also add a little canned tomato sauce. I wouldn't open some especially for this recipe, but if you happen to have some leftover then it does round out the flavor.
Divide the mixture between four low carb wraps (I'm using Mission Carb Balance Fajita size right now – 3g net carbs per tortilla).
Top with strips of sliced cheddar cheese, lettuce, and add some low carb ketchup (Walden Farms is actually zero carb, but I am currently enjoying Heinz Reduced Sugar Ketchup which is 1g net carbs for one tablespoon). Check out see my full collection of low carb ketchup options – both homemade and store-bought!
Roll everything up, and enjoy!
Alternatively, why not set everything out and let everyone create their own! Oh – and if the other members of your family aren't following a low carb diet – simply provide regular tortillas for them instead!
Low Carb Cheeseburger Wraps – a delicious burger without the bun! #lowcarb Click To Tweet
Low Carb Cheeseburger Wraps
Need an easy, tasty lunch? Try these low carb cheeseburger wraps! A keto recipe that the whole family will enjoy!
INGREDIENTS
2

tsp

olive oil

1

lb

lean ground beef

¼

cup

chopped onion

2

tbs

canned tomato sauce

optional

salt and pepper

8

small low carb tortillas

8

small lettuce leaves

4

slices

cheddar cheese

cut into thin strips

4

tbs

low carb ketchup
INSTRUCTIONS
Heat the oil in a skillet. Add the onion and beef, and cook until the beef has cooked through.

Drain, then season with salt and pepper and add in the tomato sauce if using.

Divide the meat between four tortillas. Add strips of cheese, lettuce, and the ketchup.

Roll up, and enjoy! Alternatively, let everyone create their own!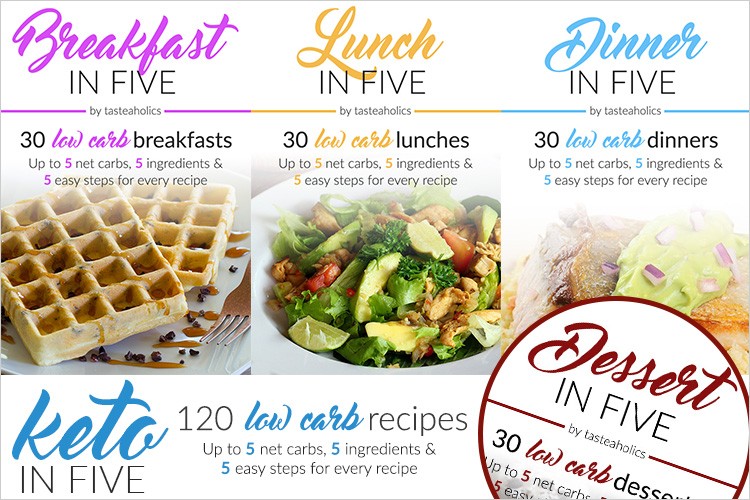 As you already know, the key to success is simplicity and satisfaction with your diet. I've been on Keto for a long time now, and these are the best e-cookbooks I could ever put my hands on: Breakfast in Five, Lunch in Five, Dinner in Five & Dessert in Five.
Each ebook contains 30 recipes. Every recipe is made with just 5 ingredients and has up to 5 grams of net carbs. That means you can have seconds of any meal and you'll still be within your daily carb limit!
If you're ready to invest a small amount of money to get your precious time and pleasure back, be sure to check it out.