Low carb cheesecake recipe
Ingredients:
1 almond low carb crust (see below)
16 oz. of cream cheese (2 – 8 oz. packages)
1 cup of artificial sweetener
2 teaspoons vanilla
3 eggs
¼ cup sour cream
Instructions:
Beat cream cheese until it seems fluffy
Add sugar and vanilla and beat until well combined.
Add eggs one at a time and beat until creamy
Place empty into almond crust into a pan slightly larger than crust pan. Fill with water to halfway up the cake pan. Fill with mixture until full and carefully push rack (and cheesecake) into the oven.
Bake for 50-60 minutes keeping a careful eye on the edges if you start to see some browning your cheesecake is ready to be pulled out.
Place cheesecake on a cooling rack for 1-2 hours. Though if you are in a hurry you can speed up the cooling by placing your cheesecake in the refrigerator after 10-15 minutes though you significantly increase the chance of causing an ugly split down the middle of your nice cheesecake.
Finish with 1 cup of whipped heavy whipping cream sweetened with 1 tablespoon of Splenda.
After cooling for 1-2 hours cool overnight (if you can wait that long) top with some unsweetened berries or a little whipping cream.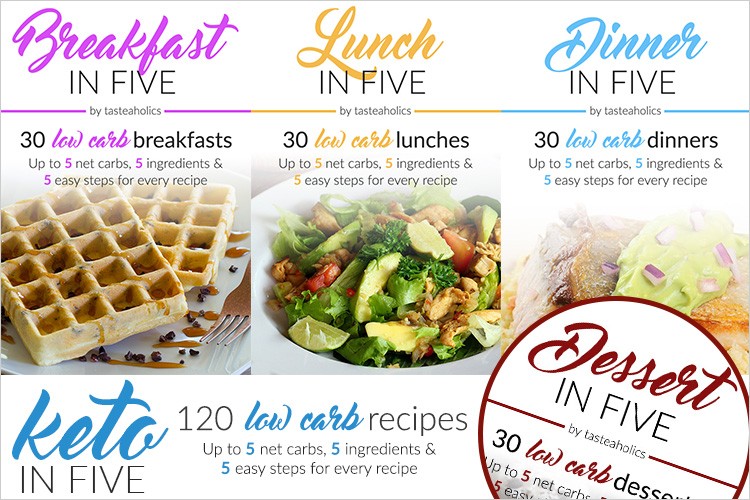 As you already know, the key to success is simplicity and satisfaction with your diet. I've been on Keto for a long time now, and these are the best e-cookbooks I could ever put my hands on: Breakfast in Five, Lunch in Five, Dinner in Five & Dessert in Five.
Each ebook contains 30 recipes. Every recipe is made with just 5 ingredients and has up to 5 grams of net carbs. That means you can have seconds of any meal and you'll still be within your daily carb limit!
If you're ready to invest a small amount of money to get your precious time and pleasure back, be sure to check it out.