Low Carb Tortilla Roll-Up
How about a super simple snack or lunch idea?  What could be easier than a low carb tortilla roll up with your favorite protein filling?  There are lots of options for low carb wraps or go super low carb and use a lettuce leaf!
Low Carb Tortilla Roll-Up
This low carb tortilla roll up is the easiest ever! Grab your favorite low carb wrap and protein filling and enjoy a quick snack or lunch.
Prep Time: 5minutes
Total Time: 5minutes
Servings: 1
Calories: 242kcal
AuthorEasyhealthllc
Ingredients
1

low carb tortilla wrap

(or lettuce leaf)

1

Tablespoon

low carb honey mustard

2

oz

roasted turkey or other meat

1

slice

cheese

diced tomatoes

lettuce
Instructions
Place wrap or lettuce leaf on wax paper or foil sheet and spread with honey mustard.

Layer remaining ingredients on wrap and roll up.

Cut wrap in half if desired.

Note: Carb count will be much lower if using lettuce leaf instead of tortilla.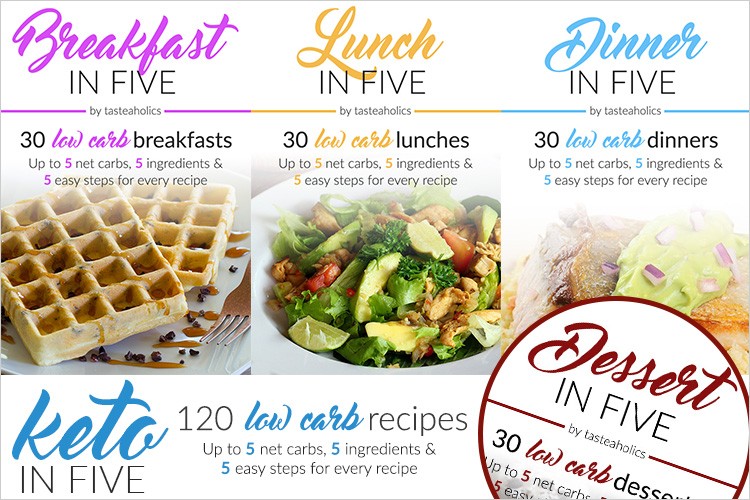 As you already know, the key to success is simplicity and satisfaction with your diet. I've been on Keto for a long time now, and these are the best e-cookbooks I could ever put my hands on: Breakfast in Five, Lunch in Five, Dinner in Five & Dessert in Five.
Each ebook contains 30 recipes. Every recipe is made with just 5 ingredients and has up to 5 grams of net carbs. That means you can have seconds of any meal and you'll still be within your daily carb limit!
If you're ready to invest a small amount of money to get your precious time and pleasure back, be sure to check it out.