Lunch This Week: Chickpea Salad Wrap
I'm still the world's laziest lunch maker. Ever.
I'm lucky if I make it to the table to sit down like a civilized human being most days. When I'm busting my butt in the kitchen for hours each day, the last thing I want to do is chop more vegetables or do a lot of prep for lunch. So, I tend to fall back on frozen veggie burgers (I love Amy's California burgers), hummus, salsa, and wraps because they are effortless and ready in 5 minutes. And thank goodness there is no chopping required!
I recently discovered the obvious: prep something the night before and I'll have more variety in my lunch. I've talked about this little problem before (see part 1 and part 2) so as you can see old habits die hard! My problem is that I rarely think about lunch at night time, but perhaps this chickpea salad may finally change that…
I spotted a vegan "Not Tuna Salad" on the Whole Foods website and used it as my inspiration for this amazing chickpea salad wrap. While I don't think what I came up with tastes anything like tuna salad (let's be real, it's chickpeas), I think it tastes even better! And this is coming from a former tuna salad addict who used to eat canned tuna for lunch all the time in university. Yes, I was that girl stacking towers of 59 cent tuna into her shopping cart like a crazy person.
So whether you never liked tuna or maybe you love tuna, add this to your lunch rotation! Pop it into a container, add a wrap and fruit, and you have yourself a well-rounded lunch…no veggie burger required.
Amy, I'll see you on Wednesday.
Ingredients:
1 (15-oz) can chickpeas (or 1.5 cups cooked chickpeas)
1/2 cup chopped celery
2 tbsp chopped red onion
3 tbsp chopped dill pickle (~1 pickle)
1 tbsp minced fresh dill
1 garlic clove, minced
1/2 tsp regular mustard
2 tbsp fresh lemon juice
1/4 cup toasted sunflower seeds (or pecans/walnuts)
salt/herbamare and pepper, to taste
Instructions:
Preheat oven to 325F and toast the sunflower seeds for about 11 minutes.
Mix everything into a bowl, mashing up the chickpeas slightly with a fork, and season with salt (I used Herbamare) and pepper, to taste. Stuff into a wrap or pita, or enjoy with crackers or rice cakes.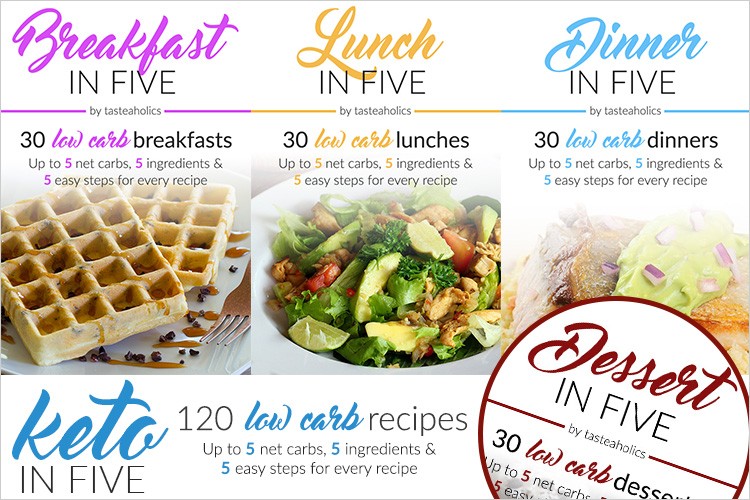 As you already know, the key to success is simplicity and satisfaction with your diet. I've been on Keto for a long time now, and these are the best e-cookbooks I could ever put my hands on: Breakfast in Five, Lunch in Five, Dinner in Five & Dessert in Five.
Each ebook contains 30 recipes. Every recipe is made with just 5 ingredients and has up to 5 grams of net carbs. That means you can have seconds of any meal and you'll still be within your daily carb limit!
If you're ready to invest a small amount of money to get your precious time and pleasure back, be sure to check it out.