Magic Weight Loss Soup recipes
INGREDIENTS
1 tbsp olive oil
1 large onion, diced
2 cloves garlic, finely chopped
2 carrots, diced
2 sticks celery, diced
1 tsp dried chili flakes
1 tsp fennel seeds
200 gram tomato (tinned is fine), peeled and seeded if fresh
1 litre vegetable stock
400 gram cooked borlotti beans, (tinned is fine)
1 bunch kale, leaves removed from stems and chopped roughly
INSTRUCTIONS
Heat oil in a large, heavy bottomed pot on a medium heat. Add the onion and garlic and fry for 5 minutes.
Ad the carrot and celery and cook for a further 10 – 15 minutes, stirring regularly.
Add the chilli flakes and fennel seeds then season and cook for a further 5 minutes. Add the tomato, cover and reduce heat to low. Cook for 15 minutes, checking and stirring occasionally.
Add in the stock and beans and cook uncovered for 15 minutes.
In the meantime boil a pot full of water and add the kale. Cook for 3 minutes, then drain most of the liquid away, reserving about ¼ of a cup.
Add the cooked kale and its cooking water into the soup and stir. Serve.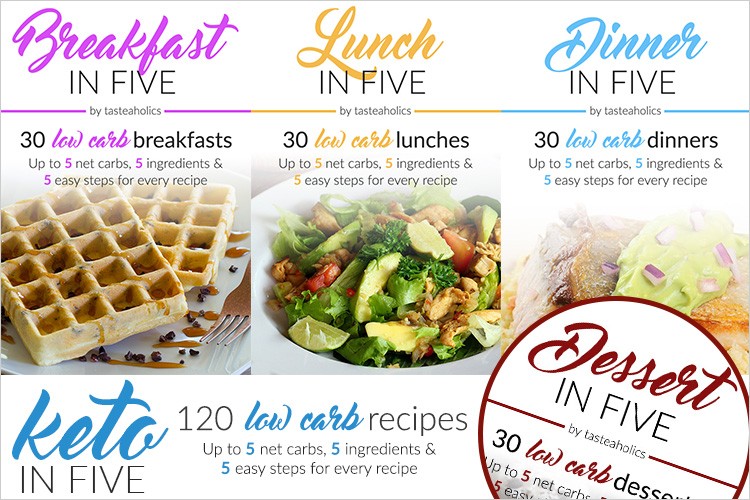 As you already know, the key to success is simplicity and satisfaction with your diet. I've been on Keto for a long time now, and these are the best e-cookbooks I could ever put my hands on: Breakfast in Five, Lunch in Five, Dinner in Five & Dessert in Five.
Each ebook contains 30 recipes. Every recipe is made with just 5 ingredients and has up to 5 grams of net carbs. That means you can have seconds of any meal and you'll still be within your daily carb limit!
If you're ready to invest a small amount of money to get your precious time and pleasure back, be sure to check it out.