Minty Vegetable And Oats Soup (Fibre Rich & Low Calorie) By Tarla Dalal
Ingredients
| | | |
| --- | --- | --- |
| | Oil | 2 Teaspoon |
| | Finely chopped garlic | 2 Teaspoon |
| | Finely chopped ginger | 1/2 Teaspoon |
| | Finely chopped green chili | 2 Teaspoon |
| | Finely chopped cabbage | 1/2 Cup (8 tbs) |
| | Finely chopped carrot | 1/2 Cup (8 tbs) |
| | Quick cooking rolled oats | 1/2 Cup (8 tbs) |
| | Soy sauce | 1 Teaspoon |
| | Vegetable stock | 3 Cup (48 tbs) |
| | Salt and ground black pepper | To Taste |
| | Finely chopped mint leaves | 1/4 Cup (4 tbs) |
| | Lemon juice | 2 Teaspoon |
Directions
MAKING
1. In a deep non-stick pan, heat oil, add garlic, ginger, green chili and saute over medium flame for a few seconds.
2. Add cabbage and carrot. Stir and cook for 2 minutes.
3. Stir in oats and cook on high flame for 1-2 minutes.
4. Add soy sauce and vegetable stock. Stir and bring to boil.
5. Stir in salt, pepper, mint leaves and lemon juice. Cook for 1 minute.
SERVING
6. Serve immediately.
Recipe Summary
Difficulty Level: Easy
Cook Time: 10 Minutes
Ready In: 10 Minutes
Servings: 4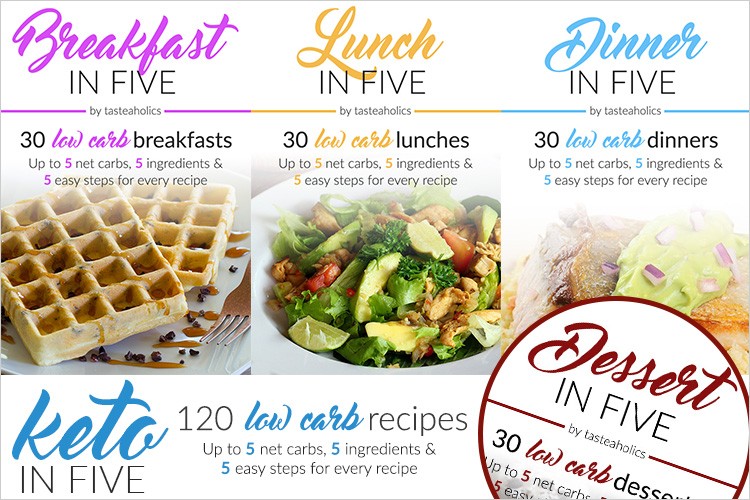 As you already know, the key to success is simplicity and satisfaction with your diet. I've been on Keto for a long time now, and these are the best e-cookbooks I could ever put my hands on: Breakfast in Five, Lunch in Five, Dinner in Five & Dessert in Five.
Each ebook contains 30 recipes. Every recipe is made with just 5 ingredients and has up to 5 grams of net carbs. That means you can have seconds of any meal and you'll still be within your daily carb limit!
If you're ready to invest a small amount of money to get your precious time and pleasure back, be sure to check it out.