I have many meatloaf recipes tucked away in my recipe box but this one is the best. I love me a good brown gravy meatloaf recipe, don't you? There's just something warm and comforting about this particular meal that makes me have feelings of nostalgia.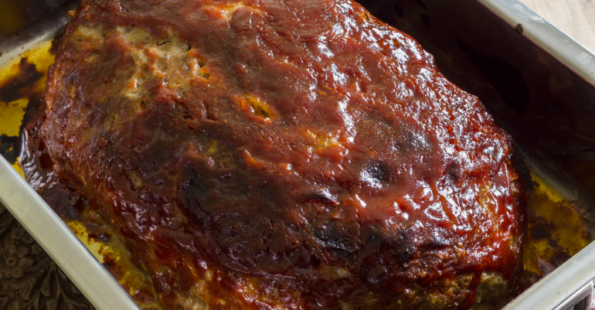 It's probably due to the fact that my mother would quite often make our family a hot and hearty meatloaf meal on those cold Michigan winters. There was nothing better than coming home from school to the aroma of mom's meatloaf baking in the oven.
I enjoy making this meatloaf on Sunday afternoons. It's the perfect after-church meal and you can let it bake in the oven at a low temperature. The food will be ready when you get back.
Ain't that the truth!
Ingredients
Meatloaf:
2 large eggs
2 cups beef broth
1 cup Heinz ketchup
1/2 cup finely chopped, fresh flat leaf parsley
2 Tablespoons Dijon mustard
2 teaspoons dried rosemary, crumbled
2 teaspoons freshly ground black pepper
2 teaspoons McCormick garlic powder
1 and 1/2 teaspoons Morton salt
2 cups finely chopped onions
1 large, heavy red bell pepper, finely chopped (1 and 1/2 cups)
1 cup finely chopped celery
3 to 4 oz. medium-sharp cheddar cheese, grated (3/4 cup to 1 cup)
2 and 1/2 to 3 lb. ground chuck (I used 3)
1 cup fine, dry seasoned bread crumbs
Meatloaf gravy:
Drippings from meatloaf pan
2 Tablespoons Kerrygold butter
2 Tablespoons warm water
2 Tablespoons cornstarch
salt and pepper, to taste
Instructions
Meatloaf:
Preheat oven to 375
Position rack in middle of the oven. In a large mixing bowl, whisk eggs. Whisk in broth, ketchup, parsley, mustard, rosemary, pepper, garlic powder, and salt. Stir in onions, bell pepper, celery, and cheese. Crumble meat over egg mixture, followed by the dry bread crumbs. Using your hands, mix gently but thoroughly until all ingredients are evenly incorporated. Transfer meat mixture to a large, glass, rectangular baking dish (I use one that measures 10 x 15.) Spread the meat mixture into the pan as you would a cake, smoothing the top with a spoon.
Bake uncovered for 1 and 1/4 hours, or until the top is crusty and well-browned and a meat thermometer reads 145 degrees F. when inserted into the center of the loaf. Allow loaf to stand at room temperature for 10 to 15 minutes prior to cutting it into pieces.
Cut into pieces and transfer pieces to a large serving platter. Cover with heavy-duty aluminum foil while you make the gravy.
Meatloaf Gravy:
Place meatloaf drippings in a medium saucepan. Heat until gently simmering. Add butter. Combine water and cornstarch in a cup, using a fork to whisk them together. Slowly add the cornstarch mixture to the bubbling gravy and whisk in, stirring constantly, until thickened. Salt and pepper to taste. Serve over meatloaf and mashed potatoes.
Best Ground Beef Recipes,

So Tasty, You'll Want To Eat These Two At A Time (And Then Go For Seconds!) Whenever we are having dinner guests with their kids over to our house, I try and find the time to make these. I can whip up a big batch and keep them warm in the slow cooker or a roasting pan in the oven on low.
I love dipping mine in some yummy sour cream. My husband likes to dump hot sauce on his. No matter how we serve and eat these, they are always a huge hit. There really is no reason not to love these. Everyone you serve them to will enjoy them as well!
Ingredients
Dough:
2 1/4 cup Gold Medal all-purpose flour
1 1/2 tsp of salt
1 stick of cold Land O' Lakes unsalted butter, diced
1 large Eggland's egg
1/3 cup of ice water
1 Tbsp Domino white vinegar
Filling:
1/2 lb lean ground beef
1 Tbsp of paprika
1 Tbsp of ground cumin
1/8 tsp cayenne pepper
1/2 red bell pepper, seeded and diced
1 Tbsp of fresh cilantro, chopped
1/2 yellow onion, finely chopped
1 Tbsp Bertolliolive oil
1/2 cup canned Rotel diced tomatoes with green chilies
1/2 cup Bush's black beans
1/2 cup shredded cheddar or pepper jack cheese
Salt and pepper, to taste
2 Eggland's eggs, beaten (divided)
Instructions
Sift the flour and salt together into a large bowl. Add the cold butter pieces and use a pastry blender to work the mixture until it resembles coarse crumbs.
In a small bowl, combine the egg, water, and vinegar and beat together with a whisk. Pour the egg mixture into the flour and stir gently until it incorporated.
Dust a flat surface with a little flour and leave some on yours hands. Grab the dough out of the bowl and shape it into a ball. Place it on the floured surface and knead gently a few times. Pat it into a flattened ball, wrap it in plastic wrap, and put it in the fridge for one hour.
While it is resting, make the filling. Heat the olive oil in a large skillet over medium-high. Add the onion and cook, stirring occasionally until it softens (about 4 minutes). Add in the red pepper, lower the heat to medium, and cook for another five minutes. Add in the canned tomatoes and stir to combine.
Add the lean ground beef to the pan and use a wooden spoon to break it up into small pieces as it cooks. Stir in the spices and cilantro. Once the beef has cooked all the way through, stir in the beans and cheese, taste the mixture and then add salt and pepper to your liking.
Add one of the beaten eggs, stirring, and turn the heat down to low. Continue stirring until the egg no longer looks translucent (about two minutes or so). Remove from heat.
Preheat the oven to 400 F. Remove the dough from your fridge and roll it out with a rolling pin on a floured surface until it is about 1/4 inch thick. Cut out roughly 4 inch round circles in the dough.
Place 1-2 Tbsp of filling in the center and fold the circle into a half moon. Use the tines of a fork to pinch the edges together to seal the empanada closed. Place on a baking sheet lined with parchment paper. Continue with the remaining dough and filling.
Brush the empanadas with the egg wash. Bake for approximately 25 minutes.