Paella Inspired Seafood Pasta with a Cognac Cream Sauce
2 cloves garlic, chopped
2 tablespoons butter
1 shallot, minced
2 tablespoons paella spice blend
1 cup heavy cream
3/4 cup grated Parmigiano-Reggiano
1 1/4 cups seafood stock
4 tablespoons cognac
1/2 teaspoon lemon zest
Fine sea salt
1 lobster tail, meat removed, shell discarded
10 medium shrimp, shells and tails removed
Corn oil, for deep frying
1 pound mussels
1/2 a lemon, juiced
Fresh parsley, chopped, for garnish
1 pack rice noodles
8 ounces King crab meat
Melt half of the butter in a medium saucepan over medium-low heat. Add half of the shallots and some of the paella spice blend. Add the cream and simmer for 5 minutes. Then add the cheese and half the garlic and whisk quickly until thick. Add a quarter of the seafood stock, the cognac and lemon zest to the sauce and let this reduce until thick and creamy. Add salt to taste.
Soak the dried rice noodles in warm water to soften.
Sprinkle the crab meat, shrimp and lobster with some paella spice blend and salt. Take some of your noodles and lay on a flat surface. Add a portion of crab meat, shrimp and lobster in the middle of the noodles and wrap them. Repeat steps for the "rice noodle bundles of seafood."
Heat the oil in a heavy pot and deep fry the noodle bundles until golden, about 5 minutes. Remove from the oil, drain on paper towels and season with sea salt immediately.
In a skillet add the remaining butter, garlic and shallots and cook over medium-high heat. Add the remaining seafood stock and the lemon juice. Add the mussels to the broth and steam until opened.
Place the fried seafood bundle in the middle of a bowl and spoon sauce around. Place mussels in each corner of the bowl (4 per serving). Garnish with chopped parsley.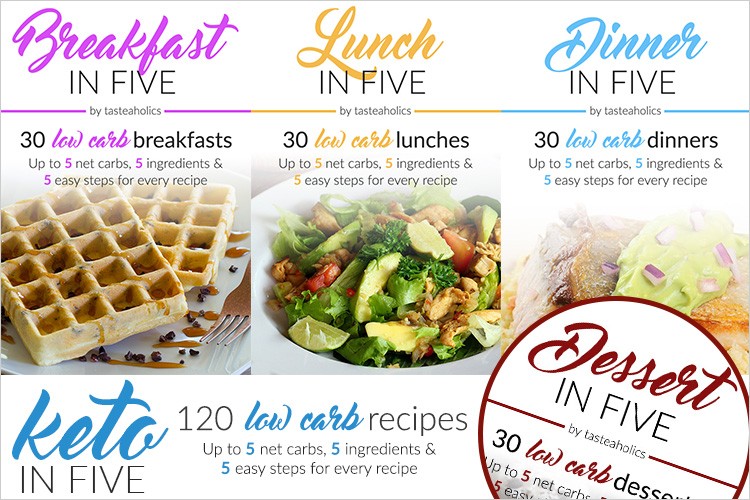 As you already know, the key to success is simplicity and satisfaction with your diet. I've been on Keto for a long time now, and these are the best e-cookbooks I could ever put my hands on: Breakfast in Five, Lunch in Five, Dinner in Five & Dessert in Five.
Each ebook contains 30 recipes. Every recipe is made with just 5 ingredients and has up to 5 grams of net carbs. That means you can have seconds of any meal and you'll still be within your daily carb limit!
If you're ready to invest a small amount of money to get your precious time and pleasure back, be sure to check it out.