Paleo Chawanmushi (Savory Egg Custard) recipes
Poke a spoon through the delicate, quivering surface of these savory Japanese steamed egg custards, and you'll find a treasure trove of ingredients inside: diced seafood, poultry, and veggies. With just a few adjustments, I've come up with a flavor-packed Paleo version of chawanmushi (茶碗蒸し) that you can steam on the stove, bake in a water bath, or pop into a sous vide cooker.
Makes: 5 servings
Hands-On Time: 15 minutes
Total Time: 45 minutes
Here's what to gather:
4 large eggs
½ teaspoon kosher salt
2 cups organic chicken broth, bone broth, or homemade dashi
1 tablespoon coconut aminos for the custard, plus 2 teaspoons for the filling
1 teaspoon Paleo-friendly fish sauce for the custard, plus ½ teaspoon for the filling
4 ounces boneless, skinless chicken thighs, cut into ½ inch cubes
2 ounces shrimp, cut into ½-inch pieces
2 medium shiitake mushrooms, thinly sliced
Freshly-ground pepper
2 scallions, thinly sliced
¼ cup minced cilantro
Cooking Equipment:
five 8-ounce cups or ramekins
Measuring cups and spoons
Steamer insert
Large stock pot
Medium bowl
Balloon whisk
Fine mesh sieve or strainer
Plastic wrap or aluminum foil
Sous vide cooker (optional)
Here's what you do:
You'll need a bunch of 8-ounce cups or ramekins for this recipe. Try to get pretty ones. No one wants to eat chawanmushi out of a "30 and Dirty" coffee mug. (Incidentally, my dad still has one of those mugs. My sister and I bought it for him as a Father's Day gift when we were little, despite the fact that he was neither 30 nor dirty.)
We have a set of Japanese tea cups with lids, which are perfect for this recipe. After all, "chawan" literally means "tea cups" in Japanese (and "mushi" means steaming.)
Put a steamer insert into a large stockpot and add water until it's just below the bottom of the steamer. Bring the water to a boil on the stove, and then turn down the heat to medium. The water should be at a constant simmer.
Crack the eggs in a medium bowl, and add the salt. Whisk until well-mixed.
In a separate measuring cup, combine the chicken broth,1 tablespoon of coconut aminos, and 1 teaspoon of fish sauce. Pour the broth into the beaten eggs and mix well.
Strain the mixture through a fine mesh sieve into a large measuring cup to filter out the eggy goo and froth.
Combine chicken, shrimp, and mushrooms in a small bowl and add 2 teaspoons of coconut aminos, ½ teaspoon of fish sauce, and some freshly-ground black pepper. (Not a fan of these particular ingredients? No worries. Feel free to use whatever savory meats and veggies you want.)
Mix everything together and set the bowl aside.
Grab the 8-ounce cups or ramekins and put a heaping tablespoon of the meaty filling in each one.
Pour the egg mixture into each cup. Stop when you're a half-inch from the top.
Cover each ramekin with plastic wrap or aluminum foil.
Place the cups on the steamer insert in the pot*, making sure to keep the liquid level.
Cover and cook for 20 minutes or until a toothpick comes out clean.
The custards will be quivery and delicate to the touch. They should be set, but when you pierce the top, the chawanmushi's texture should be almost soup-like. Don't let these babies get cold – serve 'em immediately, topped with sliced scallions and minced cilantro.
---
*Looking for a different way to cook these custards? Check out these two alternative techniques:
Mod #1: If you can't fit the cups in a steamer, cobble together a bain marie: Put the foil-covered cups or ramekins in a towel-lined baking dish filled halfway up with boiling water, and stick it in a 425°F oven for 30 minutes.
Mod #2: If you're feeling particularly fancy, try steaming the cups in a sous vide cooker set at 195°F for 60 to 90 minutes.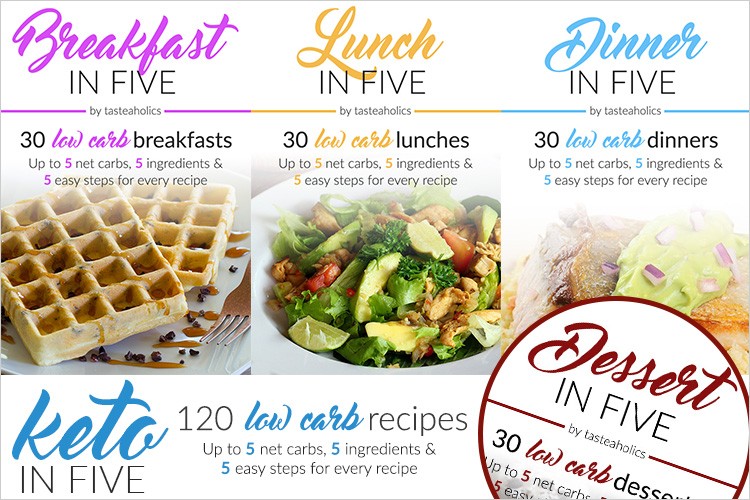 As you already know, the key to success is simplicity and satisfaction with your diet. I've been on Keto for a long time now, and these are the best e-cookbooks I could ever put my hands on: Breakfast in Five, Lunch in Five, Dinner in Five & Dessert in Five.
Each ebook contains 30 recipes. Every recipe is made with just 5 ingredients and has up to 5 grams of net carbs. That means you can have seconds of any meal and you'll still be within your daily carb limit!
If you're ready to invest a small amount of money to get your precious time and pleasure back, be sure to check it out.