Ingredients
½ cup

water

3 tablespoons

unflavored gelatin

2½ cups

canned full-fat coconut milk (about 1½ [13½-ounce] cans)

4

pitted medjool dates

¼ cup

unsweetened cocoa powder
Directions
Bring the water to a boil. Whisk the gelatin into the boiling water. Continue to stir until it is completely dissolved. Remove from the heat.
Place the coconut milk, dates, and cocoa powder in a blender. Blend for 3 minutes on high, or until the dates are completely liquefied. Pour the hot gelatin water into the coconut milk and blend for about 20 seconds to combine.
Pour the mixture into 8 Popsicle molds. Place in the freezer for 1 hour to firm slightly. After 1 hour, push a Popsicle stick into each mold and place back in the freezer to set overnight.
Place the bottom of the molds into warm water to loosen, and pull fudgesicles from the mold.
Either enjoy right away or store in a large plastic bag. To soften the fudgesicles before serving, let them sit out at room temperature for 3 to 5 minutes.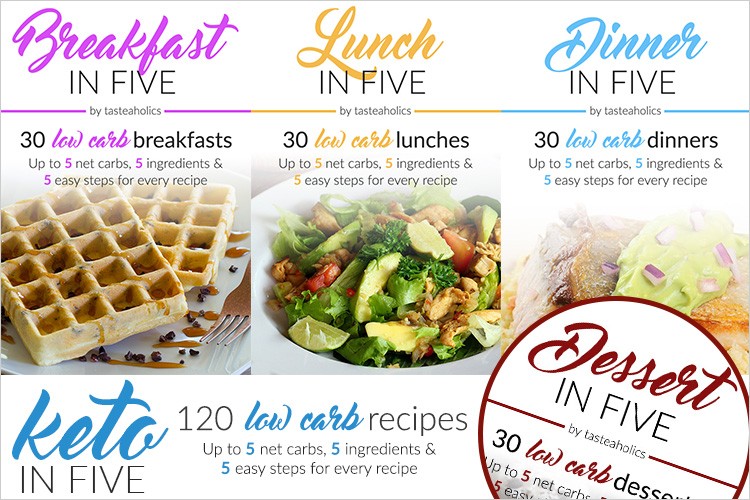 As you already know, the key to success is simplicity and satisfaction with your diet. I've been on Keto for a long time now, and these are the best e-cookbooks I could ever put my hands on: Breakfast in Five, Lunch in Five, Dinner in Five & Dessert in Five.
Each ebook contains 30 recipes. Every recipe is made with just 5 ingredients and has up to 5 grams of net carbs. That means you can have seconds of any meal and you'll still be within your daily carb limit!
If you're ready to invest a small amount of money to get your precious time and pleasure back, be sure to check it out.