Pizza 6: Pan-fried Hawaiian Pizza

The pan-fried pizza move comes in handy during the summer when you don't want to turn the oven to 500°F.
Ingredients:
Olive oil, for frying and brushing
4 ounces ham or prosciutto, chopped
1 16-ounce ball homemade pizza dough or your favorite store-bought variety, split into 2 8-ounce balls
1 cup pizza sauce or your favorite store-bought variety
1 8-ounce ball fresh mozzarella, thinly sliced
1 1/2 cups pineapple cubes
4 or 5 fresh basil leaves, shredded
Instructions:
Preheat the broiler.
Add a little oil to a medium cast-iron pan and fry the ham over medium-low heat until it's a little brown and crispy, about 3 minutes. Set aside.
Roll each pizza dough half into circles the size of your cast-iron pan. The dough will probably be slightly thicker than what you're used to.
Heat the pan to medium and add about 1 tablespoon of olive oil. Add 1 piece of the rolled-out dough. Cook for 2 to 3 minutes, until the dough is bubbly on top and browned underneath. Flip, add half of the sauce, half of the mozzarella, half of the ham, and half of the pineapple. Cook another 2 minutes, until the bottom is cooked, then slip under the broiler for 2 to 3 minutes, until the cheese looks bubbly and the pineapple is slightly caramelized. Top with basil. Remove the pizza from the pan, and repeat with the other piece of dough.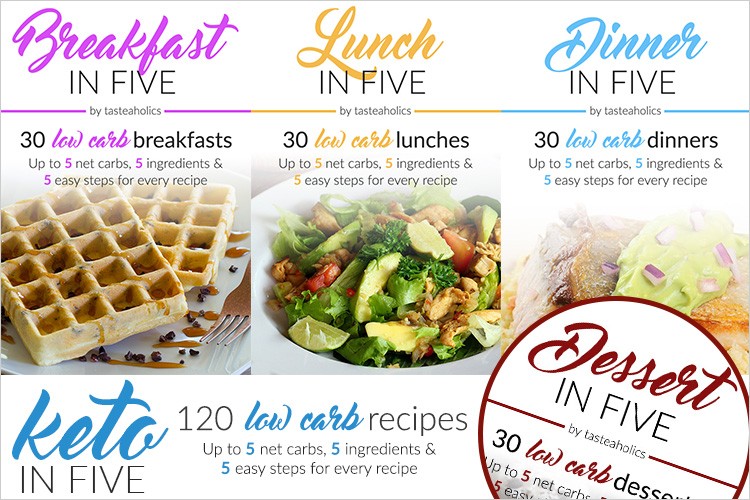 As you already know, the key to success is simplicity and satisfaction with your diet. I've been on Keto for a long time now, and these are the best e-cookbooks I could ever put my hands on: Breakfast in Five, Lunch in Five, Dinner in Five & Dessert in Five.
Each ebook contains 30 recipes. Every recipe is made with just 5 ingredients and has up to 5 grams of net carbs. That means you can have seconds of any meal and you'll still be within your daily carb limit!
If you're ready to invest a small amount of money to get your precious time and pleasure back, be sure to check it out.