Ingredients
1

13.8-ounce can refrigerated classic pizza crust, such as Pillsbury™

24

frozen cooked mini meatballs, thawed, cut in half

1

14-ounce jar pizza sauce

1

3½-ounce package pepperoni slices

¾ cup

yellow or green bell pepper, finely chopped

¾ cup

shredded pizza cheese (about 3 ounces)
Directions
Unroll the dough on a work surface. Using a rolling pin, roll the dough out to a 20-by-15-inch rectangle. Cut into 12 5-inch squares. Wrap 1 dough square around each cup, and press to seal the edges. Repeat for the remaining pieces of dough. Trim any excess dough at the bottom of each cup.
Place on a large cookie sheet, open ends down. Bake on the lowest oven rack until light golden brown, 8 to 10 minutes. When cool enough to touch, remove and discard the foil-covered paper cones.
Place half a meatball in the bottom of each cone. In a large bowl, mix ¾ cup of the pizza sauce, the pepperonis, bell pepper, and remaining meatball halves. Microwave uncovered on High until hot, 2 to 4 minutes. Spoon about ¼ cup of the mixture into each baked cone. Top each cone with about 1 tablespoon cheese. Serve hot with the remaining pizza sauce.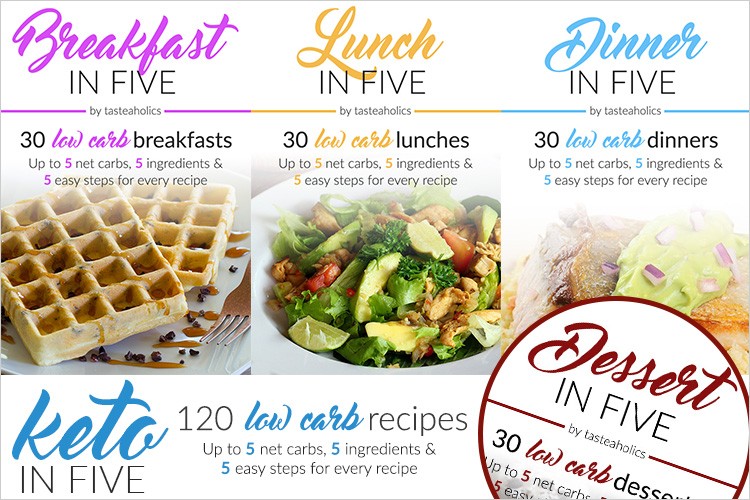 As you already know, the key to success is simplicity and satisfaction with your diet. I've been on Keto for a long time now, and these are the best e-cookbooks I could ever put my hands on: Breakfast in Five, Lunch in Five, Dinner in Five & Dessert in Five.
Each ebook contains 30 recipes. Every recipe is made with just 5 ingredients and has up to 5 grams of net carbs. That means you can have seconds of any meal and you'll still be within your daily carb limit!
If you're ready to invest a small amount of money to get your precious time and pleasure back, be sure to check it out.