Ingredients:
1 basic pizza dough, divided into 6 pieces
1/3 cup yellow cornmeal
2 tablespoons extra-virgin olive oil
1 basic italian tomato sauce
1 pound fresh mozzarella, sliced thin
36 fresh basil leaves, washed and dried
Instructions:
1. Preheat the oven to 450 degrees Fahrenheit. Put the oven rack in the upper part of the oven. Place a pizza stone or heavy-bottomed baking sheet in the oven to preheat.
2. On a clean work surface, roll out the dough pieces to about 6 inches round and 1/4 inch thick. Pick up the dough and stretch further with your fingers. Prepare as many pies as will fit on the stone or baking sheet at one time. Spread some cornmeal on a large wooden pizza peel. Place the rolled dough on the wooden peel one at a time.
3. Lightly brush the entire pie with olive oil. Thinly spread 2 to 3 tablespoons of tomato sauce around the pie, leaving a 1/2-inch border of dough around the pie. Place 4 slices of cheese evenly around the pie. Lay on 4 to 6 basil leaves. Add other toppings, if desired, at this point.
4. Open the oven and pull out the oven rack. Working quickly, slide the pie with a flick of the wrist on to the hot stone or pan. Cook the pizza for 10 to 15 minutes, until the crust is golden and the cheese melted and bubbling. Serve immediately and repeat with remaining pies.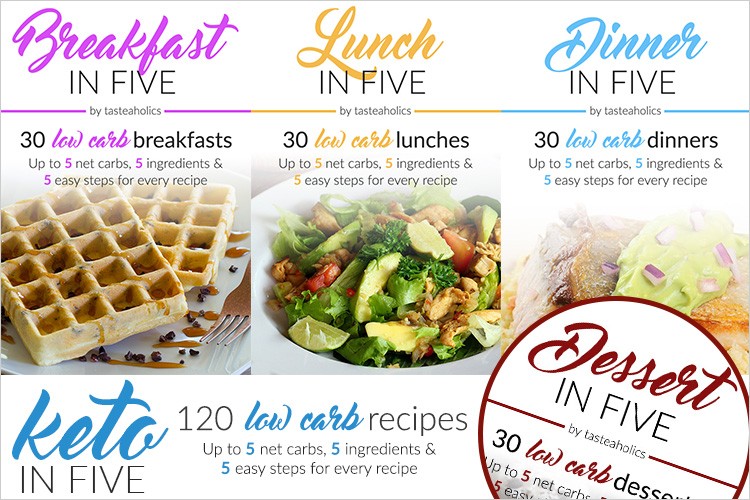 As you already know, the key to success is simplicity and satisfaction with your diet. I've been on Keto for a long time now, and these are the best e-cookbooks I could ever put my hands on: Breakfast in Five, Lunch in Five, Dinner in Five & Dessert in Five.
Each ebook contains 30 recipes. Every recipe is made with just 5 ingredients and has up to 5 grams of net carbs. That means you can have seconds of any meal and you'll still be within your daily carb limit!
If you're ready to invest a small amount of money to get your precious time and pleasure back, be sure to check it out.