Author Notes:
My Mexican potato latkes were such a hit I knew I had to make one more latke recipe before Hanukkah season was kaput. And I had been wanting to make a Jew pizza, so thought a latke inspired za (great scrabble word) would be the perfect combo! I took all the key latke components- potatoes, sour cream, apples and oil and put then all together into a tasty pie. The result? Totally awesome!
—What Jew Wanna Eat
Serves: 4-6
Ingredients
2

cups bread flour


1

envelope pizza yeast


1.5

teaspoons sugar


3/4

teaspoon salt


2/3

cup very warm water


3

tablespoons olive oil


3-4

waxy potatoes


2

golden delicious apples


2

teaspoons salt (1/2 teaspoon for apples, 1 1/2 for pizza)


1

tablespoon sugar


3

tablespoons olive oil (one for apples, two for pizza)


1

garlic clove, minced


8

ounces sour cream


6

ounces goat cheese


2

tablespoons fresh rosemary, chopped
Directions
Preheat your oven to 450 degrees F. First up, make your dough. Mix together 1 cup flour, yeast, 1.5 teaspoon sugar and 3/4 teaspoon salt in a bowl. Then add 2/3 cup warm water and 3 teaspoons oil and combine.
Add in flour a little at a time and knead until you have a ball (you may not use all the flour), and then knead four more minutes.
To cook your potatoes put them into cold water and bring to a boil. Your potatoes are cooked when you can insert a knife and it comes out clean. When cooled, slice them into 1/8 inch slices.
Then slice your peeled apples into 1/8 inch slices as well. Then mix your apples with 1 tablespoon sugar, 1/2 teaspoon salt, and 1 tablespoon oil.
Now it's time to build your za! Roll out your rough on a pizza stone or pan covered with parchment paper. You can make a crust if you like (I liked). Then drizzle with olive oil.
Layer potatoes and apples on your dough, alternating one of each. Drizzle with more oil and sprinkle with minced garlic. Top with sour cream, salt, pepper, chopped rosemary and dollops of goat cheese. Bake for 20 minutes until the crust is brown and the cheese is bubbly and delicious.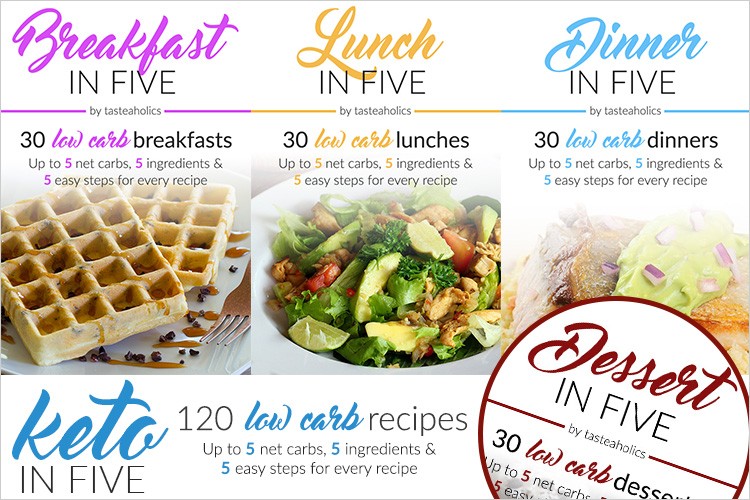 As you already know, the key to success is simplicity and satisfaction with your diet. I've been on Keto for a long time now, and these are the best e-cookbooks I could ever put my hands on: Breakfast in Five, Lunch in Five, Dinner in Five & Dessert in Five.
Each ebook contains 30 recipes. Every recipe is made with just 5 ingredients and has up to 5 grams of net carbs. That means you can have seconds of any meal and you'll still be within your daily carb limit!
If you're ready to invest a small amount of money to get your precious time and pleasure back, be sure to check it out.