Quick Meal – Paprika Roasted Salmon

Serve with a side of roasted truss cherry tomatoes and potatoes, or add crumbled salmon to salads.
Ingredients:
For the oven-baked paprika salmon:
2 (130g or thereabouts) salmon fillets
1 tbsp olive oil, plus extra
1 tbsp smoky paprika
(2 vines of truss cherry tomatoes)
Instructions:
Preheat oven to 220C (200C fan forced, 425F, gas mark 7).
Line a small baking tray with non-stick baking paper and grease it generously with extra oil, about 2 tablespoons.
Place salmon fillets on the paper, skin down and a couple of inches apart.
Rub a tablespoon of oil all over each fillet and sprinkle generously with smoky paprika.
(Add truss cherry tomatoes to the tray, if using.)
Bake salmon fillets (along with the tomatoes) in the preheated oven for about 15 minutes.
Turn off the oven, and with the oven door open, let it rest for another 3 minutes or so.
Serve salmon with some bread, potatoes, roasted tomatoes or a garden salad.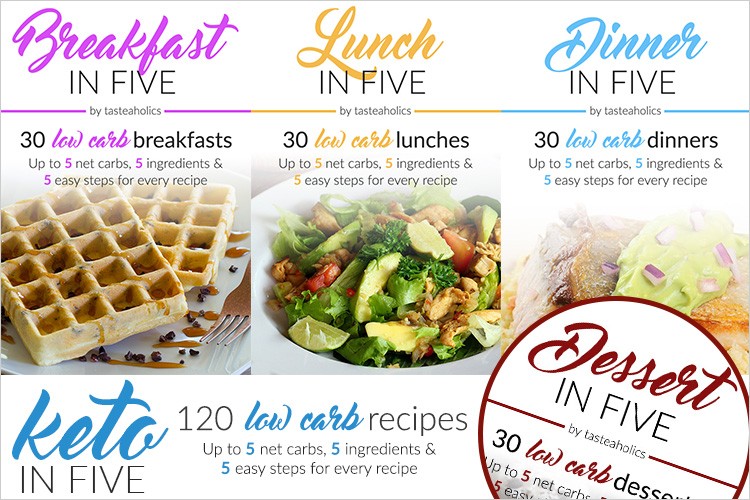 As you already know, the key to success is simplicity and satisfaction with your diet. I've been on Keto for a long time now, and these are the best e-cookbooks I could ever put my hands on: Breakfast in Five, Lunch in Five, Dinner in Five & Dessert in Five.
Each ebook contains 30 recipes. Every recipe is made with just 5 ingredients and has up to 5 grams of net carbs. That means you can have seconds of any meal and you'll still be within your daily carb limit!
If you're ready to invest a small amount of money to get your precious time and pleasure back, be sure to check it out.