Ingredients:
1 (3- to 3 1/2-lb) chicken, quartered (see cooks' note, below) and wing tips discarded
2 tablespoons olive oil
2 1/4 teaspoons salt
1 3/4 teaspoons black pepper
1 lb boiling potatoes, cut into 1-inch wedges
2 zucchini (1 lb total), quartered lengthwise, then cut crosswise into 2 1/2- to 3-inch lengths
1 medium onion, halved lengthwise, then cut crosswise into 1/4-inch-thick slices
1/2 cup reduced-sodium chicken broth
1 tablespoon fresh lemon juice
Garnish: lemon wedges
a large roasting pan (17 by 12 inches)
Instructions:
Put oven rack in upper third of oven and preheat oven to 500°F.
Pat chicken dry, then toss with 1 tablespoon oil, 1 1/4 teaspoons salt, and 1 teaspoon pepper in a bowl. Arrange chicken, skin sides up, without pieces touching, in roasting pan, leaving a 2-inch border around edges of pan.
Toss potatoes, zucchini, and onion with remaining tablespoon oil, remaining teaspoon salt, and remaining 3/4 teaspoon pepper in same bowl, then spread in 1 layer around chicken, arranging zucchini skin sides up. Stir together broth and lemon juice and pour into pan around chicken and vegetables.
Roast, uncovered, until chicken is pale golden and cooked through, about 30 minutes.
Remove pan from oven and preheat broiler. Broil chicken and vegetables 3 inches from heat until chicken is golden brown, about 6 minutes. Serve chicken and vegetables with pan juices.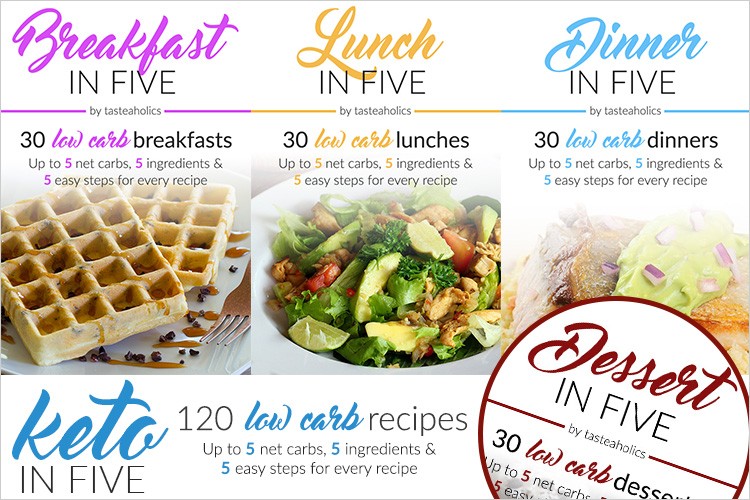 As you already know, the key to success is simplicity and satisfaction with your diet. I've been on Keto for a long time now, and these are the best e-cookbooks I could ever put my hands on: Breakfast in Five, Lunch in Five, Dinner in Five & Dessert in Five.
Each ebook contains 30 recipes. Every recipe is made with just 5 ingredients and has up to 5 grams of net carbs. That means you can have seconds of any meal and you'll still be within your daily carb limit!
If you're ready to invest a small amount of money to get your precious time and pleasure back, be sure to check it out.