Ingredients (5)
1 pound salmon, cut into 4 fillets (patted very dry to avoid oil splattering)
¼ cup ume plum vinegar
¼ cup agave nectar
1 tablespoon olive oil
1 tablespoon grapeseed oil
Instructions
1In a small saucepan over medium heat, stir together ume plum vinegar and agave
2When sauce begins to bubble turn down heat and simmer for 4-5 minutes until thick enough to coat the back of a spoon
3Place oils in a large frying pan over high heat
4Place salmon in frying pan, do not allow fillets to touch each other
5Fry for 2 minutes until the bottoms are browned
6Brush Kabayaki sauce on the fillets
7Flip salmon over and brush top of the other side, then fry for another minute or 2 until fish flakes easily and is cooked through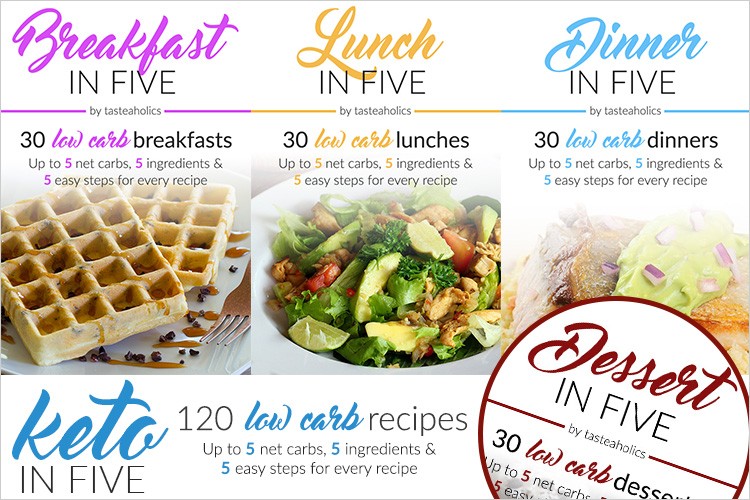 As you already know, the key to success is simplicity and satisfaction with your diet. I've been on Keto for a long time now, and these are the best e-cookbooks I could ever put my hands on: Breakfast in Five, Lunch in Five, Dinner in Five & Dessert in Five.
Each ebook contains 30 recipes. Every recipe is made with just 5 ingredients and has up to 5 grams of net carbs. That means you can have seconds of any meal and you'll still be within your daily carb limit!
If you're ready to invest a small amount of money to get your precious time and pleasure back, be sure to check it out.