This spread is made with smoked and steamed salmon, butter, and shallots. It's a great appetizer spread on rounds of baguette.
Yield:serves 10
Active time:
45 minutes
Total time:2 hours 45 minutes
Ingredients
1 pound salmon fillet, skin and pin bones removed
2 tablespoons Pernod
3 1/2 teaspoons salt, divided
1 teaspoon pepper, divided
1 cup unsalted butter, at room temperature, divided
1/2 cup minced shallots
1 tablespoon creme fraiche
1/2 pound smoked salmon, diced
2 1/2 tablespoons lemon juice
1 tablespoon extra-virgin olive oil
2 egg yolks, lightly beaten
1/4 cup minced chives
Gaguette, for serving
Directions
Place salmon in a shallow baking dish. Sprinkle with 1 tablespoon Pernod, 1 1/2 teaspoons salt and 1/4 teaspoon pepper. Turn fish over and repeat on other side. Cover baking sheet and let rest in refrigerator for 1 hour.
Fill bottom of a steamer with water and bring to a simmer. Place salmon in steamer, cover, and steam until medium rare, about 5 minutes. Remove salmon and let rest on a plate.
Place 1 tablespoon butter in a small saucepan over medium heat. When butter is melted, add shallots and 1/4 teaspoon salt and sauté until soft, 5 minutes.
In a small bowl, whisk 7 tablespoons butter until smooth and creamy. Stir in creme fraiche.
Place cooked salmon in a large bowl and lightly break it up with a fork. Add smoked salmon, shallots, lemon juice, olive oil, egg yolks, 1/4 teaspoon salt, and 1/2 teaspoon pepper. Stir to combine.
Stir in butter until smooth. Place mixture in 2 glass serving bowls. Cover and refrigerate for one hour.
Make clarified butter by melting the remaining 1 stick butter in a small saucepan over medium heat, making sure not to let it brown. Take off heat and let rest 5 minutes. Use a spoon to remove white foam which will have collected on top. Carefully pour off the clear yellowish liquid, and leave solids at the bottom.
Take rillettes from refrigerator and pour 1/4th inch layer of clarified butter over top of the rillettes to seal. Cover bowls and refrigerate for up to one week. To serve, spread on pieces of baguette and sprinkle with chives.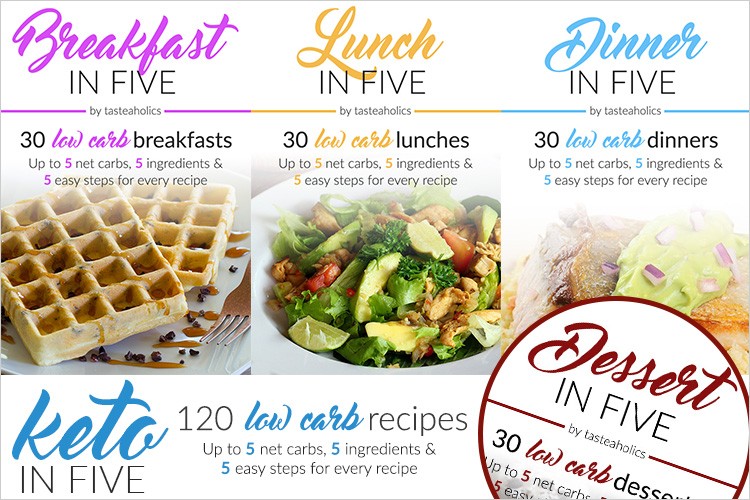 As you already know, the key to success is simplicity and satisfaction with your diet. I've been on Keto for a long time now, and these are the best e-cookbooks I could ever put my hands on: Breakfast in Five, Lunch in Five, Dinner in Five & Dessert in Five.
Each ebook contains 30 recipes. Every recipe is made with just 5 ingredients and has up to 5 grams of net carbs. That means you can have seconds of any meal and you'll still be within your daily carb limit!
If you're ready to invest a small amount of money to get your precious time and pleasure back, be sure to check it out.