Ingredients:
1 baguette, thinly sliced and toasted
1 pound salmon, bones removed
1 tablespoon olive oil
kosher salt
1 1/2 cups Bridlewood Winery Chardonnay
1 1/2 cups water
1/4 cup creme fraiche
1 tablespoon lemon juice
6 ounces smoked salmon, chopped into pieces
white pepper
Instructions:
Preheat the oven to 375°F. Line a glass baking dish with aluminum foil. Lay the salmon in the baking dish, skin side down. Coat with olive oil. Liberally season salmon fillet with kosher salt. Pour chardonnay and water over the fish. Cover pan with aluminum foil and bake for 20 minutes. To see if the salmon is fully cooked, cut into the fillet. If the flesh flakes and the color is opaque, then it's done.
Transfer the salmon fillet (without the poaching liquid) to a platter. Cover and place in the refrigerator until it's completely cooled.
When the salmon has cooled, in a separate bowl, whisk together crème fraîche, lemon juice and chopped chives. Add the poached salmon to the bowl and smash to combine. Do not overdo it, though, as you don't want the salmon to turn pasty. Mix in the smoked salmon and, if necessary, season with salt and white pepper.
Serve with toasted baguette slices.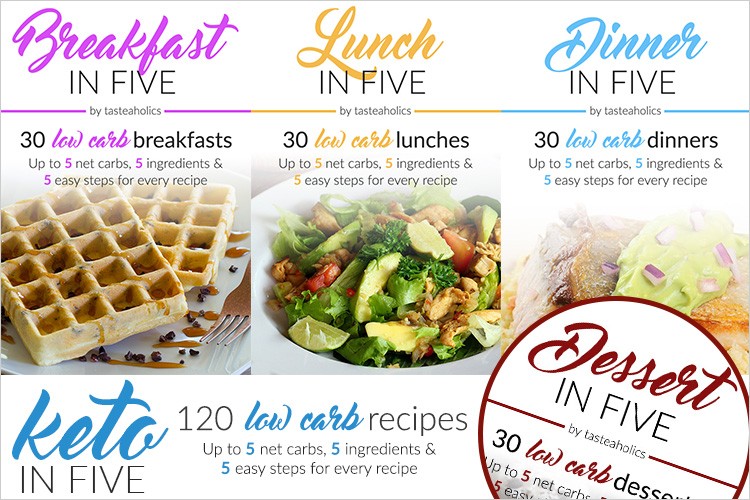 As you already know, the key to success is simplicity and satisfaction with your diet. I've been on Keto for a long time now, and these are the best e-cookbooks I could ever put my hands on: Breakfast in Five, Lunch in Five, Dinner in Five & Dessert in Five.
Each ebook contains 30 recipes. Every recipe is made with just 5 ingredients and has up to 5 grams of net carbs. That means you can have seconds of any meal and you'll still be within your daily carb limit!
If you're ready to invest a small amount of money to get your precious time and pleasure back, be sure to check it out.