Salmon Spread Recipe
INGREDIENTS
8 ounces skinless salmon fillet
8 ounces smoked salmon, finely chopped
1 teaspoon of grated lemon peel
2 Tbsp of lemon juice
1 teaspoon Dijon mustard
2 tablespoons plus 1 teaspoon chopped fresh chives
1/8 teaspoon coarsely ground black pepper
1 teaspoon drained capers, chopped
1/2 cup butter (1 stick), softened
A baguette
METHOD
1 Poach the salmon: Poach salmon fillet by heating 1/2 inch of water in a skillet to boiling. Add salmon fillet; reduce heat to low; cover and simmer for 4-5 minutes, or until salmon flakes easily when tested with a fork.
Carefully remove salmon from water with a slotted spatula or spoon; drain salmon on paper towels. Transfer salmon to medium bowl; cool slightly.
2 Make the salmon mixture: With wooden spoon, stir and mash poached salmon until it almost becomes a smooth paste. Add smoked salmon, butter, Dijon mustard, capers, pepper, lemon peel, lemon juice, and 2 tablespoons chopped chives; mix thoroughly.
3 Chill: Spoon salmon mixture into a serving bowl. Cover and refrigerate at least 2 hours. Let stand at room temperature 30 minutes before serving or until soft enough to spread. Sprinkle with remaining chopped chives and serve with sliced French baguette, toasted or plain.
Makes about 3 cups of spread, so depending on how thinly or thickly you put it on baguette slices, you could have 20-50 servings. For a lower-carb version, spread over slices of cucumber.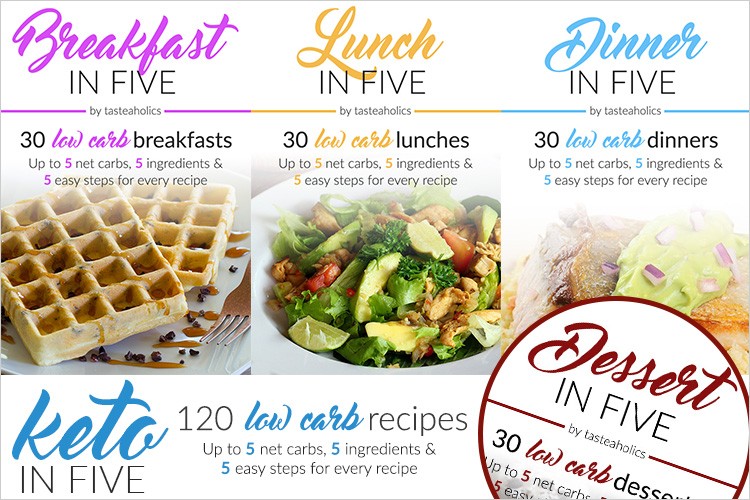 As you already know, the key to success is simplicity and satisfaction with your diet. I've been on Keto for a long time now, and these are the best e-cookbooks I could ever put my hands on: Breakfast in Five, Lunch in Five, Dinner in Five & Dessert in Five.
Each ebook contains 30 recipes. Every recipe is made with just 5 ingredients and has up to 5 grams of net carbs. That means you can have seconds of any meal and you'll still be within your daily carb limit!
If you're ready to invest a small amount of money to get your precious time and pleasure back, be sure to check it out.