When I think about my childhood, one of the many food traditions I can recall were meat-free Fridays. Not so much for religious reasons, but being a good reminder to eat fish – at least – once a week. Wake up! (you might want to say now) There are so many more food options besides meat and fish! And I have to agree, you got a point. But having been the tiny little person in my family back then, I had little say and all the men in my family clearly demanded "proper" food to be made out of meat, poultry or fish.
With a new owner, Fischhäusl at our neighborhood market – not more than a stone throw away – has reopened and our fish consumption has increased notably since. Firstly, the staff are unbelievably friendly and knowledgeable about fish, never shy of great preparation tips or recipe ideas. Secondly, our daily walk to the Englischer Garten, together with the cutest dog of all, Jackson (our semi-adopted Jack-Russell), allows us to take a peek at their super fresh offerings.
While Jackson followed through his plan, which included a shortcut to the Italian food stall (where he sometimes snatches sausage piece from the generous owner), I spent my last coins for a small piece of sushi quality salmon and only minutes later started preparing the simplest salmon tartare you could imagine. Olive oil, a shallot, salt, pepper and one lime (and the bread). I'm sure, there are more elaborate recipes out there for fish tartare, but I'm 100 percent positive, that this one was the best I have eaten in a very long time. Who said the wise words, along the lines of "a dish is perfect once you can't remove any more ingredients"? P-l-a-i-n  p-e-r-f-e-c-t.
For easier slicing, put the salmon in the freezer for 15 to 20 minutes. Cut the salmon into three evenly thick pieces (horizontally), then into thin stripes and lastly into small cubes. The more attention you pay to this step, the nicer the tartare will look in the end. Put into a larger bowl.
Drizzle generously with very good olive oil and stir until the fish is evenly covered and looks smooth and shiny, then add the diced shallot, the sea salt and the black pepper.
Wash the lime under hot water and pat dry before grating its zest over the tartare. Mix well, season to taste, cover with foil and return to the fridge. Keep the lime for later (you'll be needing some juice).
Cut the baguette (I used a stale simit, which I think added a nice twist with its sesame seeds) into thin slices. Heat a large pan over medium heat, then distribute the slices evenly and drizzle with a little olive oil. Toast shortly from both sides until golden brown and crisp.
Top the little bread slices with the marinated salmon cubes and drizzle with some juice from the reserved lime (if you add it earlier the fish will loose its shiny color and turn opaque). Decorate with some fresh herbs, if at hand.
Salmon tartare
Recipe source: own creation
Prep time: ~15 min.
.
Ingredients (for 4 as an appetizer):
250g fresh salmon fillet (sushi grade, without skin)
fruity, high-quality olive oil
1 finely diced shallot
1 organic lime
coarse sea salt
freshly ground black pepper
serve on thin, toasted slices of baguette, bread or simit
further variations: fresh ginger, green onions, chopped fresh herbs (cilantro, chives, dill)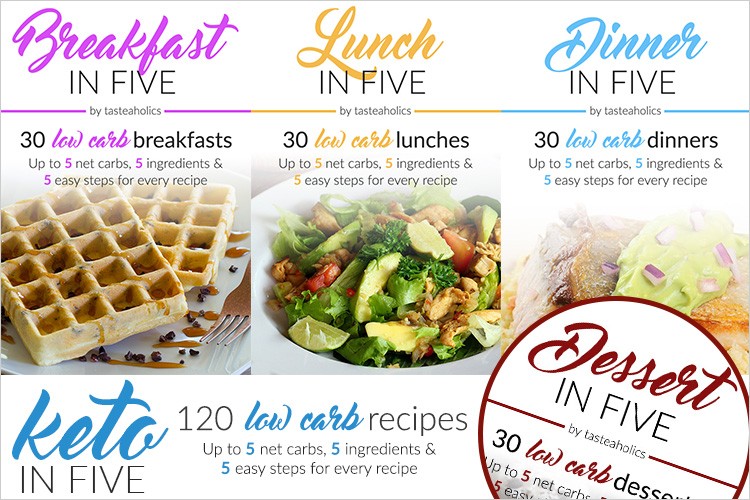 As you already know, the key to success is simplicity and satisfaction with your diet. I've been on Keto for a long time now, and these are the best e-cookbooks I could ever put my hands on: Breakfast in Five, Lunch in Five, Dinner in Five & Dessert in Five.
Each ebook contains 30 recipes. Every recipe is made with just 5 ingredients and has up to 5 grams of net carbs. That means you can have seconds of any meal and you'll still be within your daily carb limit!
If you're ready to invest a small amount of money to get your precious time and pleasure back, be sure to check it out.