Ingredients
1 1/2 cups water
1 cup dry white wine
1/2 cup clam juice
2 tablespoons no-salt-added tomato paste
3 (10 1/2-ounce) cans low-sodium chicken broth
Vegetable cooking spray
2 cloves garlic, minced
1 1/2 cups Arborio rice, uncooked
1 pound medium-size fresh shrimp, peeled and deveined
1/2 pound bay scallops
1/2 cup chopped sun-dried tomato (packed without oil)
8 ounces fresh lump crabmeat, drained
3 ounces goat cheese, crumbled
1/4 cup minced fresh basil
How to Make It
Step 1
Combine first 5 ingredients in a large saucepan; place over medium heat. Cover and bring just to a simmer; reduce heat to low, and keep warm. (Do not boil.)
Step 2
Coat a large nonstick skillet with cooking spray; place over medium-high heat until hot. Add garlic, and saute 1 minute. Stir in rice; cook, stirring constantly, 2 minutes. Reduce heat to medium-low.
Step 3
Add 1 cup of simmering broth mixture to rice mixture, stirring constantly until most of liquid is absorbed. Add remaining broth, 1/2 cup at a time, cooking and stirring constantly until each 1/2 cup addition is absorbed, about 50 minutes. (Rice will be tender and will have a creamy consistency.) Stir in shrimp, scallops, and tomato after 30 minutes of cooking. Stir in crabmeat after 40 minutes of cooking.
Step 4
Remove from heat; stir in goat cheese and basil. Serve immediately.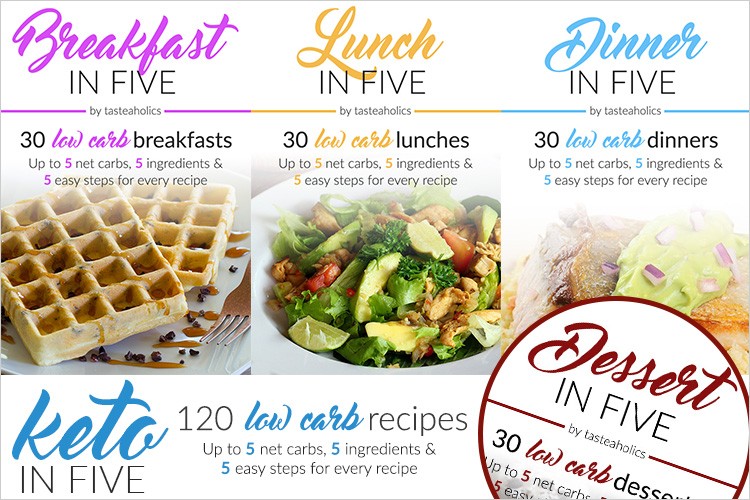 As you already know, the key to success is simplicity and satisfaction with your diet. I've been on Keto for a long time now, and these are the best e-cookbooks I could ever put my hands on: Breakfast in Five, Lunch in Five, Dinner in Five & Dessert in Five.
Each ebook contains 30 recipes. Every recipe is made with just 5 ingredients and has up to 5 grams of net carbs. That means you can have seconds of any meal and you'll still be within your daily carb limit!
If you're ready to invest a small amount of money to get your precious time and pleasure back, be sure to check it out.