Simple Vegan Tofu Lasagna
Ingredients:
Canola spray oil
1 (14-ounce) package firm tofu, drained
2 tablespoons nutritional yeast
1 teaspoon garlic granules
1/4 teaspoon ground black pepper
2 (25-ounce) jars vegan marinara sauce
3 bell peppers, chopped
12 no-boil dried lasagna noodles
1/4 teaspoon fine sea salt
Method:
Preheat the oven to 350°F. Lightly oil a 9×13-inch baking dish; set aside.
Wrap tofu in 3 or 4 layers of paper towels and gently press out as much water as possible, changing the paper towels once or twice as needed. Transfer tofu to a large bowl and add yeast, garlic, salt and pepper and mash with a fork. Set tofu mixture aside. Put marinara sauce into a medium pot and bring to a simmer. Add peppers and continue simmering until tender, about 10 minutes.
Spoon enough marinara sauce into prepared dish to cover the bottom and then arrange 4 noodles on top. Spread one-third of the tofu mixture over the noodles and then spoon more sauce over the tofu. Repeatwith remaining noodles, tofu and sauce, ending with sauce. Cover with foil and bake until noodles are tender, 45 to 60 minutes. Set aside to let rest for 10 minutes and then serve.
Nutritional Info:
Per Serving: 270 calories (70 from fat), 7g total fat, 1g saturated fat, 610mg sodium, 39gcarbohydrates, (7 g dietary fiber, 12g sugar), 14g protein.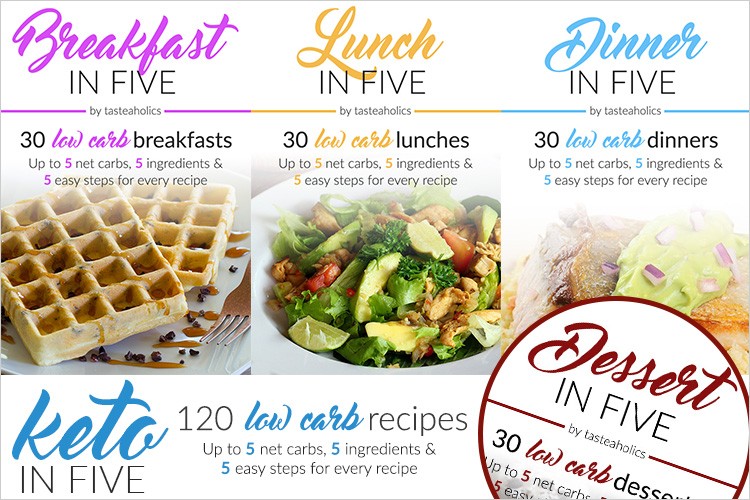 As you already know, the key to success is simplicity and satisfaction with your diet. I've been on Keto for a long time now, and these are the best e-cookbooks I could ever put my hands on: Breakfast in Five, Lunch in Five, Dinner in Five & Dessert in Five.
Each ebook contains 30 recipes. Every recipe is made with just 5 ingredients and has up to 5 grams of net carbs. That means you can have seconds of any meal and you'll still be within your daily carb limit!
If you're ready to invest a small amount of money to get your precious time and pleasure back, be sure to check it out.