Skinny Berry Cheesecake Bars recipes
Skinny Berry Cheesecake Bars are creamy, dreamy lemony cheese cake no bake filling on top of a gluten free nutty almond crust and topped with healthy berries. 
You are going to love these skinny berry cheesecake bars as it took me less than 30 minutes to throw together, its diabetic friendly, low carb, lower in fat compared to a traditional cheesecake, gluten-free and pretty enough to be a centerpiece for any social gathering. I only had to turn the oven for 10 minutes to cook the crust and the rest is no bake. Low fuss is a very good thing as it is about a million degrees here in Hong Kong and the humidity is 100 percent and the last thing I want to be doing is slaving in the kitchen.
Okay here we are on the cusp of summer and there is nothing like a good old fashion bathing suit/swim trunk try on session to prompt some reassessment of our dietary intake. Not only that we have a holidays, graduation parties, weddings, etc. coming up and no doubt you will be asked to bring a dish to pass or maybe are hosting the event yourself. Here is your chance to make and bring something you can eat and enjoy and still stay skinny. We all you know you want to do the right thing and eat just the healthy things but we also know there is a naughty side of you as well. With  a delicious slice of skinny berry cheese cake bars you can literally have your cake and eat it too.
I am not saying just because it is lower fat and lower carb that you can go ahead and eat the whole darn pie!!!!  However, enjoying a reasonable sized piece of skinny berry cheesecake bars every once in a while makes you feel loved and not deprived without the huge carbohydrate (carb) load is a very good thing. Berries are one of the lower carb fruits and with it being the 4th of July weekend, just a couple of weeks away, this makes the perfect topping for a little flash or red, white and blue.
My middle sister is going to love this recipe for skinny berry cheesecake bars. Every year my sister has a huge 4th of July gathering and it is loads of fun. They live in Ludington, Michigan and that is essentially just about a stones throw away from Traverse City the Fudge and Cherry capital of the world and "THE" place to be over the 4th of July holiday weekend. Fun days at the beach, climbing the sand dunes, fireworks, campfires, smores and of course loads of eating. Now see, this is where this dessert comes in. You can make it in advance and just add the berries right before you serve it  and have I mentioned what a beautiful picnic table centerpiece skinny berry cheese cake bars makes.
I used a 9 inch pizza pan to make this dessert but you could use any square pan you wish.. or even a quiche dish. I keep calling it a bar as it really is one but it is fun shape of a pizza pie.
I started out by making an almond crust as my base, low carb and lovely. I really love that crunchy little texture once you bake it. My handy-dandy food processor really makes this job a snap and I get the almonds ground very finely. (I even toasted my almonds after I grounded them as love that toasty flavor but this step is not required.) You can also buy pre-ground almonds and this would even make your life one step easier.
We have dietary restrictions in out home but it does not mean that you need to make your version this way. If you are not diabetic, then feel free to use either regular sugar or a low glycemic sugar of choice in the crust or even honey in the lemon cream cheese filling to sweeten in up. I do not like my desserts real sweet  but only delicately sweet so feel free to taste along the way and add more sweetener if you desire.
You can use any fruits you wish, but I choose berries as they are in season, gorgeous and low on the glycemic scale. Even though fruits such as stone fruits, kiwi, mango, jack fruit, pineapple, papaya, jack fruit, star fruit and lychee are not as low on the glycemic scale they would all be beautiful on this cheesecake bar. However, then you would have to call it the Skinny "Tropical" Cheese Cake Bar.
Life is short so lets eat dessert first and have a super week.
Ingredients
ALMOND CRUST
ground almonds – 2 cups
margarine/butter – 2 tablespoons (I use a olive oil spread-because that is what I have in the house)
sugar or sugar alternative – 5 packets splenda (or sugar alternative of choice if diabetic) or can use 1/4 cup brown sugar if not diabetic.
LEMON CREAM CHEESE FILLING
cream cheese – 1.5 packages/ 12 ounces light Neufchatel cheese
fat free natural yogurt – 1/2 cup
lemon zest – zest of 1 lemon ( approximately 1 tablespoon)
lemon juice – juice of 1 lemon (approximately 2.5 tablespoons of juice)
sugar or sugar alternative – 12 packets or splenda (or sugar alternative of choice) if not diabetic then use 1/2 cup of sugar
BERRY /FRUIT TOPPINGS
strawberries – 1 pint (3/4 pound) 2 cups washed and sliced
blueberries – 1 pint (3/4 pound) or about 2.5 cups
Directions
1Preheat oven to 375 F (190 degrees Celsius).
2Crush almonds into a graham cracker crumb consistency in a food processor, or in a bag by hand or buy your almonds pre-ground. (I toasted my ground almonds before mixing everything together, but that step is totally optional) In a medium bowl add the ground almonds, margarine/butter and sugar alternative/sugar and mix with a fork. Spray/oil on the bottom and sides your dish that you plan on using. My pan was a 9 inch round pizza pan. Press the almond crumbs on the bottom of the pan with the back of your spoon. Bake your almond crust for 10 minutes or until the nuts are slightly golden and toasty. Remove crust from the oven and cool (I put my crust in the freezer for about 10 minutes with hot pots under it to protect the freezer and it really cooled it fast)
3Mix together cream cheese, yogurt, lemon zest, lemon juice, sugar/sugar alternative with a blender until creamy and smooth.
4Spread the cream cheese mixture gently over the crust. It is best to put dollops of cream cheese mixture in separate sections and gently spread as the crust has a tendency to crumble. Spread the cream cheese to the edges but leave about 1/2 to 1 inch around the perimeter to show off that delicious almond crust.
5Wash, dry and cut your berries and decorate the top of your Skinny Berry Cheese Cake Bars any way you desire.  Enjoy!
6***If not serving your delicious Skinny Berry Cheese Cake Bars in the next 8 hours don't decorate with the berries until you are ready to serve, just so they stay fresh. You can make the Skinny Berry Cheese Cake Bars up to 48 hours in advance.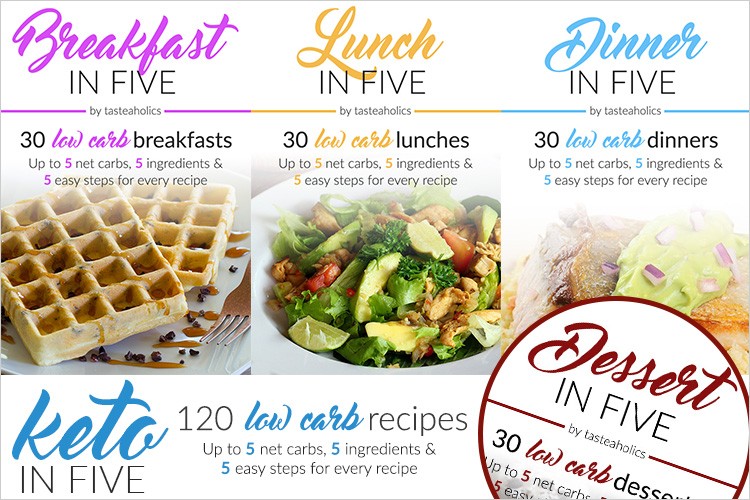 As you already know, the key to success is simplicity and satisfaction with your diet. I've been on Keto for a long time now, and these are the best e-cookbooks I could ever put my hands on: Breakfast in Five, Lunch in Five, Dinner in Five & Dessert in Five.
Each ebook contains 30 recipes. Every recipe is made with just 5 ingredients and has up to 5 grams of net carbs. That means you can have seconds of any meal and you'll still be within your daily carb limit!
If you're ready to invest a small amount of money to get your precious time and pleasure back, be sure to check it out.