Author Notes:
I had the good fortune to travel to southern Spain last year where I was introduced to an alternative to rice paella, fideos, or broken pasta. The fideos have a personality of their own taking on a nutty flavor, providing a full bodied backdrop for the seafood and tomatoes.
—Summer of Eggplant
WHAT: A dish to transport you straight to southern Spain.
HOW: Toast your fideos; take them out of the pan. Make a stew with your alliums, spices, and tomatoes; add your fideos back in, then the seafood; let it all cook together. Garnish with lemon juice and parsley.
WHY WE LOVE IT: Fideos were always something that we loved eating at Spanish restaurants — and Summer of Eggplant has given us a great excuse to make them at home. We love the seafood-to-fideo ratio in this recipe; by the time you reach the bottom of the pot, you're not staring at a sad heap of broken pasta. We can't wait to make this the star of our next dinner party. —The Editors
Serves: 4
Ingredients

7

ounces bag of fideos, or broken angel hair pasta


1

medium Spanish onion, chopped


3

cloves garlic, smashed


1

teaspoon smoked paprika


1

teaspoon dried oregano


1

pinch cayenne


One

14-ounce can diced fire-roasted tomatoes


1

nutmeg seed, passed over a micro plane 5 times


2 1/2

cups seafood stock


1

cup dry white wine


1/2

cup water or vegetable broth


1

bay leaf


12

shrimp


3

squid tubes, cut in to rings


12

clams


12

mussels


1/16

teaspoon ground saffron or a medium sized pinch of threads


3/4

cup frozen peas


1

lemon


3

tablespoons parsley, chopped
Directions
Coat a heavy pan in olive oil. Over medium/low heat, add fideos and sauté until they become a warm brown color, about 6 to 7 minutes. Using a slotted spoon, remove them from the pan and set aside.
Reduce the heat add more olive oil to the pan, if needed. Add onion and sauté for 5 minutes, until almost translucent. Add garlic and sauté for another 3 minutes.
Add in the smoked paprika, oregano, and cayenne, and sauté for another minute.
Increase the heat to medium and add tomatoes, shave in nutmeg, and bring to a simmer for 3 minutes.
Return the fideos to the pan and simmer for 5 minutes.
Meanwhile, bring stock, wine, water and bay leaf to a boil in another pot, reduce to simmering, adding the seafood one species at a time and removing from the pan and reserving. Cook shrimp 2 to 3 minutes until just pink; squid 1 to 2 minutes until just prior to opaque; clams a maximum of 6 minutes, discarding unopened ones; mussels up to 4 minutes; discard unopened ones. Allow broth to return to a slow boil in between batches. Remove seafood and set aside.
Add the saffron to broth and let 'bloom' for 2 minutes. Turn the heat off of the broth.
Slowly add stock into the pot with the fideos, in 3 to 4 batches (like risotto). Let simmer with broth for about 20 minutes. When the pasta has reached desired consistency, add in the peas and seafood. Let steam for 2 minutes, covered.
Prior to serving squeeze the lemon over the top, and sprinkle with parsley.
This recipe is a Wildcard Contest Winner!
This recipe is a Community Pick!
This recipe was entered in the contest for Your Best Paella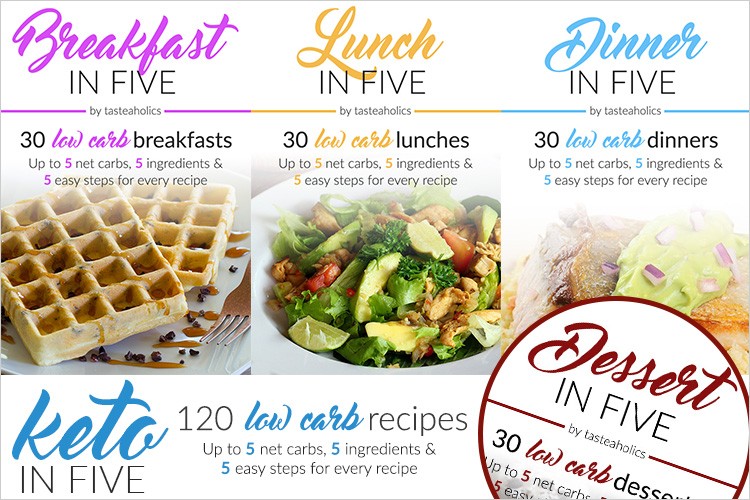 As you already know, the key to success is simplicity and satisfaction with your diet. I've been on Keto for a long time now, and these are the best e-cookbooks I could ever put my hands on: Breakfast in Five, Lunch in Five, Dinner in Five & Dessert in Five.
Each ebook contains 30 recipes. Every recipe is made with just 5 ingredients and has up to 5 grams of net carbs. That means you can have seconds of any meal and you'll still be within your daily carb limit!
If you're ready to invest a small amount of money to get your precious time and pleasure back, be sure to check it out.