Soupoukandia (Okra And Seafood Stew)

Fish sauce and nutty palm oil flavor this luscious stew, undoubtedly a predecessor of Louisiana-style gumbo.
Ingredients:
FOR THE VEGETABLE BROTH:
12 cups fish or vegetable stock
4 cups thick-sliced okra
3 bay leaves
2 medium yellow onion, roughly chopped
FOR THE SEAFOOD SOUP:
6 tbsp. palm oil (available from iHerb)
4 tbsp. fish sauce (available from Amazon)
1 large eggplant, cut into large chunks, or 4 small Thai eggplants
2 habanero or Scotch bonnet chiles, slit in half lengthwise
24 mussels, cleaned and debearded
16 medium shrimp, peeled and deveined
Freshly ground black pepper, to taste
Cooked white rice or fonio, for serving (see below for ordering)
Instructions:
Make the vegetable broth: Bring the stock to a boil in a 6-qt. saucepan over high heat, then add okra, bay leaves, and onions. Reduce heat to medium-low, and cook, stirring occasionally, until okra is very tender and stock has reduced by one-quarter, about 1 ½ hours.
Make the seafood soup: Add the palm oil, 3 tbsp. fish sauce, eggplant, and chiles to the vegetable broth, and cook, stirring occasionally, until soup has thickened and okra falls apart, about 30 minutes.
Add mussels and shrimp; cover pan, and cook until mussels open and shrimp are cooked through, about 4 minutes.
To serve, remove from heat and stir in remaining fish sauce and pepper. Ladle soup into bowls, and serve with rice or fonio.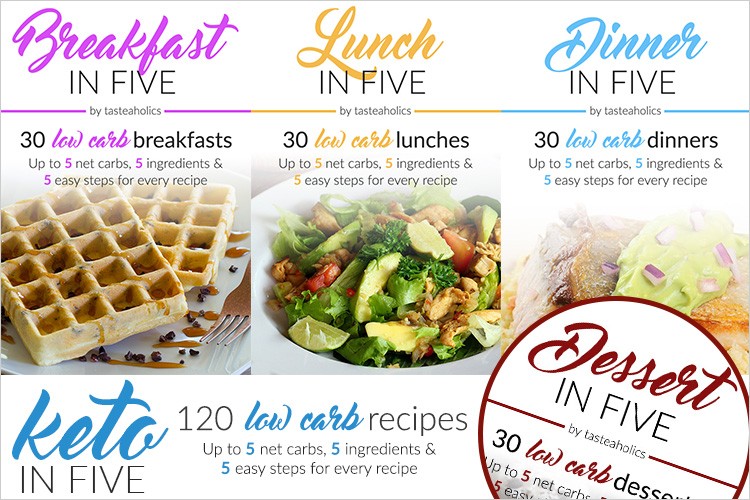 As you already know, the key to success is simplicity and satisfaction with your diet. I've been on Keto for a long time now, and these are the best e-cookbooks I could ever put my hands on: Breakfast in Five, Lunch in Five, Dinner in Five & Dessert in Five.
Each ebook contains 30 recipes. Every recipe is made with just 5 ingredients and has up to 5 grams of net carbs. That means you can have seconds of any meal and you'll still be within your daily carb limit!
If you're ready to invest a small amount of money to get your precious time and pleasure back, be sure to check it out.